Paraquat is an herbicide that is highly popular, but also extremely toxic. Recent research suggests that this chemical may also cause Parkinson's disease, a degenerative neurological condition. Now, victims of Paraquat exposure are filing lawsuits against Paraquat manufacturers in every state, including Connecticut. 
If you were diagnosed with Parkinson's disease after being exposed to Paraquat, you may be eligible for financial compensation. In these situations, the Connecticut Paraquat lawsuit attorneys at Shapiro Legal Group, PLLC can fight aggressively for your right to compensation. 
Why You Should Choose Us for Your Paraquat Lawsuit
Our firm has over 20 years of legal experience and has helped thousands of clients recover the compensation that they deserve. 

Our Paraquat lawsuit lawyers have represented injured people in every state, including Connecticut. We will co-counsel with leading personal injury and mass tort firms to provide you with the best possible legal representation.

We believe in open and honest communication. Our firm will always be available to answer your questions and provide you with important case updates.
What Is Paraquat & How is it Used?
Paraquat is used to kill weeds and unwanted plants. It is widely used across the United States, despite being banned in many countries for its toxic and dangerous effects. There are many brand names that Paraquat is sold under, such as the following.
Gramoxone

Bonedry

Ortho-Paraquat

Blanco

Firestorm

Para-Shot 3.0
Does Paraquat Cause Parkinson's Disease?
Paraquat exposure may lead to Parkinson's disease. According to a letter from the Michael J. Fox Foundation to the Environmental Protection Agency (EPA), several studies establish a link between Paraquat and Parkinson's. 
For example, one study cited in the letter examined a group of people exposed to Paraquat as a teen or young adult in California's Central Valley. These individuals have a 200–600% higher risk of Parkinson's disease than their counterparts. A study of farmers who handled or mixed Paraquat had a 200% higher risk.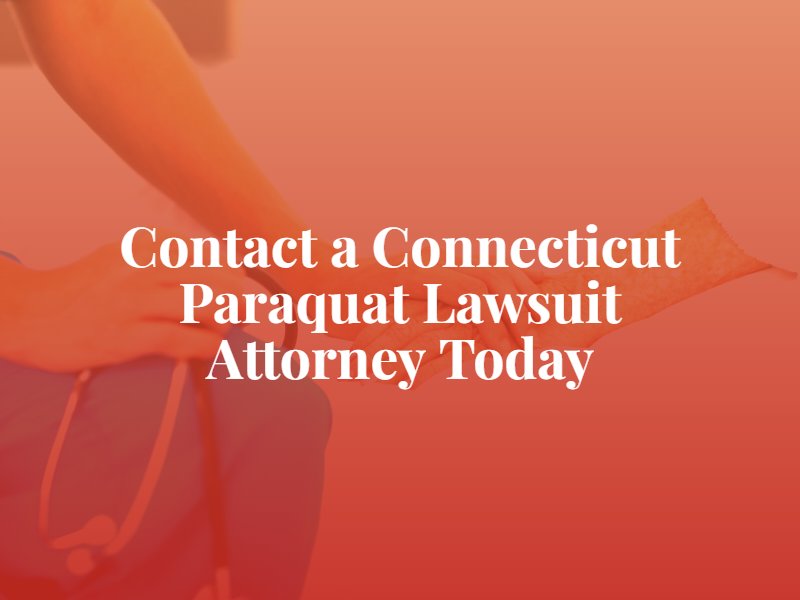 Filing a Paraquat Lawsuit in Connecticut
If you believe that Paraquat is responsible for your Parkinson's disease, you may be eligible for a lawsuit against the manufacturer. In Connecticut, you can recover financial compensation for any losses that you experienced related to your diagnosis. 
What Types of Compensation Is Available For a Paraquat Lawsuit? 
Past and future medical expenses

Lost wages

Loss of future earnings

Disability accommodations

Pain and suffering
To secure compensation in your lawsuit, you will need to prove that you were diagnosed with Parkinson's disease and that Paraquat exposure caused your condition. This can be difficult without an attorney on your side.
The lawyers at Shapiro Legal Group, PLLC represent Paraquat lawsuits nationwide. We have access to expert witnesses, scientific evidence, and other important pieces of evidence that we will leverage to craft a compelling case in your favor. We will advocate aggressively for your maximum recovery. 
The Statute of Limitations for Connecticut Paraquat Lawsuits
Under Connecticut law, you must file a Paraquat lawsuit within three years from the date of your Parkinson's disease diagnosis. If you do not file within this time frame, known as the statute of limitations, the court will likely dismiss your case. To protect your right to compensation, it is important to consult with a Paraquat injury lawyer as soon as possible.
Contact a Connecticut Paraquat Lawsuit Attorney
If you are diagnosed with Parkinson's disease after being exposed to Paraquat, the lawyers at Shapiro Legal Group, PLLC can help. Contact us today to schedule a free case consultation with a Connecticut Paraquat lawsuit attorney.