Talcum powder has been used by millions of people to absorb moisture and help reduce irritation. While talcum powder was used for many years and was a staple in many American homes, recent studies have shown it may be linked to thousands of cases of ovarian cancer.
According to these studies, women who used talcum powder and other feminine products that contained talc, in the genital areas have a substantially increased risk of developing ovarian cancer than women who never used talcum powder products.
If you or a loved one are a victim of ovarian cancer after using talcum powder, immediately contact Shapiro Legal Group, PLLC. Our talcum powder lawyer will seek justice with you by pursuing compensation. We offer free consultations online or by calling (888)640-3784.
Talcum Powder Injury Resources
To immediately access the resources at any point on this page, click the corresponding link below.
Why Choose Our Talcum Powder Lawyer?
Talcum Powder is in Many Products
Talcum Powder & Ovarian Cancer
Choosing the Right Talcum Powder Attorney
How Does a Talcum Powder Lawsuit Progress?
Talcum Powder Cancer FAQs
Speak to a Lawyer Today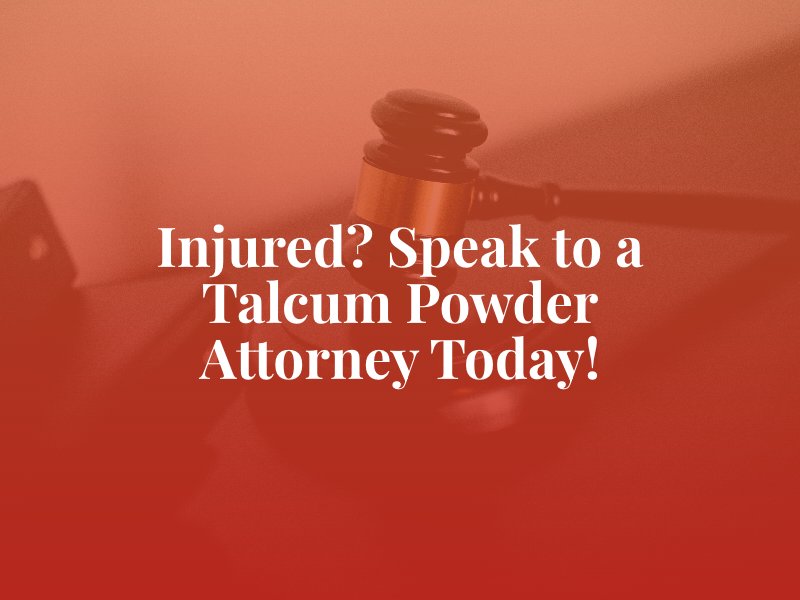 Why Choose Us for Your Talcum Powder Lawyer?
Mark Shapiro, our founding mass tort attorney, has been handling cases, such as talcum powder for more than 20 years.
We only specialize in mass tort litigation, giving us insight and specialized knowledge to handle your case.
At Shapiro Legal Group, PLLC, our talcum powder attorney ensure that any negligent parties are held responsible for your injuries by pursuing the maximum possible compensation you need to make a full recovery.
Talcum Powder Found in Many Products
In addition to talcum powder itself, talc and talcum powder are found in many consumer products, including:
Cosmetics
Feminine washes and deodorants
Condoms
Sanitary napkins
Tampons
Talcum Powder & Ovarian Cancer
Talcum powder is made from talc, a mineral containing oxygen, silicon, and magnesium. This substance is effective at absorbing moisture, preventing rashes, and reducing friction. These qualities make talc particularly attractive to manufacturers of cosmetics and personal hygiene products.
Despite these benefits, talc can be extremely dangerous when used around the genital area. Research shows that harmful carcinogenic agents in talc can travel inside the body and become trapped in the ovaries. Additionally, talc is often contaminated with asbestos, a dangerous cancer-causing substance. 
While the exact mechanism is unknown, these factors can contribute to the development of ovarian cancer. In fact, women who have used talcum powder are approximately 30% more likely to develop this condition than a woman who has not used this product. Ovarian cancer is a very serious disease and causes more deaths than any other type of female reproductive cancer.
Choosing the Right Talcum Powder Attorney
When you are filing a lawsuit against a large corporation, you need an attorney on your side who can protect your best interests and fight for your right to compensation. With multiple options available, it can be difficult to find the right lawyer to represent your lawsuit.
To find the right lawyer to handle your talcum powder lawsuit, look for a firm that can provide the following:
Experience handling complex litigation involving dangerous products like talcum powder

A strong, successful history of obtaining settlements and jury verdicts on behalf of their clients

Access to resources to help investigate and prove your case, such as a network of expert witnesses

A nationwide reach with experience representing talcum powder victims across the United States

Years of experience protecting the rights of injured consumers and holding manufacturers accountable
At Shapiro Legal Group, PLLC, our attorneys represent clients in every state and specialize in dangerous product litigation. We have recovered millions of dollars on behalf of our clients and will fight to secure the settlement that you deserve.
How Does a Talcum Powder Lawsuit Progress?
A talcum powder lawsuit follows a series of careful steps that begins from the time that you reach out to an attorney. These steps can change based on the circumstances of your case. Your attorney will handle all of the paperwork along the way so that you can focus on healing and recovery.
Check Your Eligibility
The first step in filing a talcum powder lawsuit is to determine if you are eligible for legal action. Generally, you qualify if you used a talcum powder product consistently for at least one year and were diagnosed with ovarian cancer. If you are unsure whether you qualify, schedule a free consultation with Shapiro Legal Group, PLLC and discuss your case with an attorney. Our lawyers will carefully evaluate your situation and help determine your next steps.
Gather Evidence
Once your attorney confirms that you qualify for litigation, he or she will begin to investigate your case. Our firm will examine the products that you were exposed to, evaluate your medical records, and gather relevant pieces of evidence. This investigation will help prepare your claim for the court.
File Your Lawsuit in Court
Next, your attorney will file your lawsuit in civil court. Depending on your situation, you may want to file your lawsuit alone or alongside similar cases in either a class action lawsuit or mass tort litigation. Your lawyer will explain your options and determine your optimal pathway to financial compensation.
You'll want to make sure that you file your lawsuit within the statute of limitations. Depending on the state where you live, this deadline can range from one year to four years or more. Your lawyer from Shapiro Legal Group, PLLC will help you identify your appropriate deadline so that you can protect your right to compensation.
Enter into Negotiations
Before your case goes to trial, you may engage in negotiations with the defendant's attorneys. During this process, you may be able to come to an agreement with the at-fault party and recover compensation before you go to court. 
Settling your case is usually faster than going to trial, but it isn't the right decision for everyone. Your lawyer will help you choose the path that is most likely to result in the highest possible award.
Go to Trial and Argue Your Case
If you aren't able to reach a settlement or choose not to engage in negotiations, your case will proceed to trial. Your lawyer will present your case to the court, showing evidence that the powder caused your cancer. The talcum powder's legal counsel will also present a defense. 
At the conclusion of your case, the court will decide whether the company is liable for your injuries. If you win your lawsuit, you will receive compensation. If you disagree with the court's decision, your attorney can help you file an appeal. 
Talcum Powder Cancer FAQs
What Is Talc and Why Is It Harmful?
Talc is a naturally occurring mineral made of silicon, magnesium, and oxygen. After it is processed into a fine powder, talc can be used in a wide range of personal hygiene and cosmetic products, including baby powder.
Despite its benefits, talc is often contaminated with asbestos, a dangerous cancer-causing substance. Even small amounts of asbestos can lead to serious medical conditions like mesothelioma and ovarian cancer. 
Why Are People Filing Talcum Powder Lawsuits?
Thousands of consumers have been diagnosed with cancer after using products that contain talc. Now, they are filing lawsuits against the companies who manufactured these products, most notably Johnson & Johnson. These claims allege that the companies were aware of these dangers and failed to warn consumers or pull the products from the shelves. 
How Much Are Talcum Powder Settlements Worth?
By filing a talcum powder lawsuit, victims can recover compensation to help pay for any damages related to their cancer diagnoses. These losses may include medical expenses, lost wages, and pain and suffering. 
In most talcum powder claims, settlements are based on the individual damages that the victim experienced. As a result, these settlements can be worth a few thousand dollars or millions of dollars and more. 
How Long Do You Have to File a Talcum Powder Claim?
Talcum powder lawsuits are subject to a statute of limitations, which sets a deadline for certain types of lawsuits. The amount of time that you have to file will depend on the state where you live and the date of your cancer diagnosis.
Get Justice With Our Leading Talcum Powder Lawyer
The Shapiro Legal Group, PLLC represents women who have been diagnosed with ovarian cancer nationwide. If you or a loved one used talcum powder and developed ovarian cancer, you may be entitled to substantial financial compensation. For a free, no risk or obligation, case evaluation by a leading talcum powder attorney, contact the Shapiro Legal Group, PLLC today at (888)640-3784 or complete the case evaluation on this page.