Placing a loved one in a nursing home can be a difficult decision to make, and is usually made with the belief that they will receive the proper care and respect they deserve. Unfortunately, abuse can occur in these homes, although it is entirely preventable. If your loved one has been a victim of nursing home abuse, they deserve justice. 
At the Shapiro Legal Group, PLLC, we have a deep understanding of the laws around elder abuse and we will relentlessly advocate on behalf of those who have suffered. Our experienced team of nursing home abuse attorneys will do everything in our power to hold the responsible parties accountable and rectify the situation. Give us a call today for more information on how to get started. 
Nursing Home Abuse Resources
To immediately access the resources at any point on this page, click the corresponding links below.
Why Choose Our Lawyer?
Warning Signs of Abuse in a Nursing Home
What Forms Does Nursing Home Abuse Take?
Nursing Home Abuse vs. Neglect
What Federal Laws Protect Nursing Home Residents?
Types of Nursing Home Abuse Cases We Take
How Our Attorney Can Help
What to Expect During a Nursing Home Abuse Lawsuit
How Much Does an Attorney Cost?
What to Do if a Loved One is Being Abused
Speak to a Lawyer Today
Why Choose Our Nursing Home Abuse Lawyer?
Finding out that your loved one has been abused by the person(s) who are supposed to be caring for them can be enraging, stressful, and overwhelming, and can leave you feeling at a loss for what to do next. You don't have to go through this alone, in fact, it is recommended that you work with an experienced attorney in order to get the best possible outcome. 
The nursing home abuse attorney team at the Shapiro Legal Group, PLLC, has over 20 years of experience handling serious claims. When you work with us you get: 
A team of compassionate and highly skilled lawyers

Access to our assistance in all 50 states

Open communication with your attorney so you're never left guessing where you stand

A team with a track record of success – over the years we have secured millions of dollars in compensation for our clients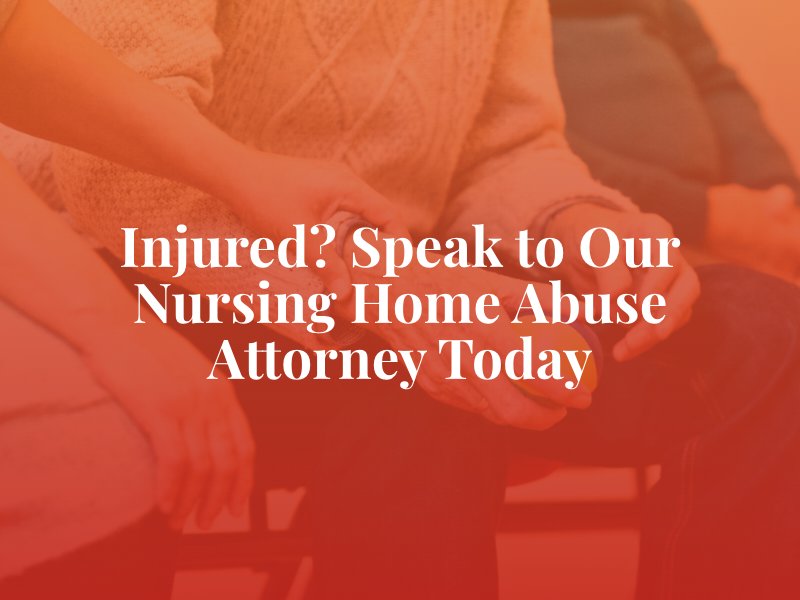 Warning Signs of Abuse in a Nursing Home
The warning signs of abuse can often be dismissed as symptoms of dementia or old age so It is important for the resident's loved ones to be aware of the warning signs of nursing home abuse. Common signs of abuse include:
Emotional withdrawal 

Silence when caretakers are around

Sudden financial difficulties

Unpaid bills

Sudden or unexpected changes to their will

Sudden or unexpected changes in their power of attorney 

Malnutrition 

Bruises or bleeding

Dehydration

Unexplained diseases or infections

Bruises on or around genitals

Bedsores 
It is common for victims of abuse to be ashamed of coming forward and sharing the abuse they have endured. This makes it especially important that residents' families and loved ones keep an eye out for warning signs of abuse and make themselves aware of the different types of abuse that may occur. 
What Forms Does Nursing Home Abuse Take?
Typically, staff members and other residents are the perpetrators of the abuse that occurs in nursing homes. However, anyone who has access to the facility can potentially inflict abuse on residents. 
Abuse in nursing homes can take many different forms, including: 
Physical abuse – deliberately aggressive or violent behavior toward a resident that results in bodily injury

Emotional abuse – non-physical behaviors that are meant to control, isolate or frighten residents

Sexual abuse – unwanted sexual behaviors or acts forced upon residents 

Financial abuse – the illegal or improper use of a resident's money or belongings without consent

Neglect – lack of necessities like food, water, medications, or medical care 
If you suspect your loved one is a victim of any of these types of abuse, be sure to contact a nursing home abuse attorney as soon as possible. Working with an experienced lawyer will help you and your elderly loved one gather the necessary evidence and build a strong case to get them the justice they deserve. 
Nursing Home Abuse vs. Neglect
Abuse and neglect in a nursing home are both serious forms of mistreatment, however, while neglect may be a form of abuse, it may not always be intentional, whereas abuse usually is. Typically, abuse is a deliberate act that stems from malice and causes serious injury or risk to the resident, while neglect is failing or lacking to fulfill certain caretaking tasks. 
Neglect can be either passive or active, depending on the intent of the caregiver. Unintentional neglect can be the result of caregiver overwhelm or lack of training. Intentional neglect is the result of withholding care or necessities. 
Neglect tends to be more common in nursing homes than abuse, examples of neglect may include:
Basic needs neglect

– failure to provide reasonable food, water, or a clean environment 

Medical neglect

– lack of proper and necessary medical care and/or preventative medical procedures

Personal hygiene neglect

– failure to provide assistance with necessary personal hygiene like brushing teeth, laundry, bathing, combing hair, etc. 

Social/emotional neglect

– ignoring the individual, leaving them alone, or berating them 
What Federal Laws Protect Nursing Home Residents?
There are several laws that provide protection to nursing home residents in America.
The Nursing Home Reform Act of 1987
This act is the most comprehensive and thorough set of regulations surrounding the care of nursing home residents. This act's main objective was to ensure that nursing home residents received quality care on psychosocial, mental, and physical levels. 
This act specified a list of services that must be provided to nursing home residents:
The patient should have access to a comprehensive care plan and be able to remain fully involved in curating and assessing it at any point in time

The patient should receive periodic assessments from a physician of their choice

Social services

Dietary services

Nursing services

Facilities with other 120 beds must have a full-time social worker on-site 

Rehabilitation services

Pharmaceutical services
To ensure the facilities are abiding by these guidelines, there should be unannounced resident interviews and surveys every 15 or so months. If the facility is found to not be providing the required care the state can enforce compliance through
Terminating the provider agreement

Direct in-service training for the staff

Monetary penalties

Assuming temporary management of the facility

Creating and enforcing a plan of correction

State monitoring
If nursing homes follow these guidelines then they qualify to receive Medicare and Medicaid payments for long-term care. 
Elder Justice Act
This law was enacted in 2010 and was created to specifically target the issues of nursing home abuse and neglect. This law requires staff to report any incidents of physical abuse or neglect. 
This act also created the Elder Justice Coordinating Council, which holds two meetings a year to discuss new ways to keep the elderly safe. This council makes recommendations directly to Congress on how to improve conditions in nursing homes. 
Additionally, this act implemented a 60-day window protocol. This means that if a facility is closing, the Secretary of Health and Human Services and the state must be informed, and the staff must explain how the nursing home residents will find alternative accommodation after the closure. 
Lastly, this act required that all employees be vetted via a background check, prior to hiring to be sure that the facilities have the most competent and qualified staff caring for residents. This is also an added layer of defense against abuse and neglect. 
Older Americans Act (OAA) 
This act is made up of specific nursing home federal and state laws that ensure the best health and safety of nursing home residents. This act helps over 600 state agencies, 20,000 service providers, and more than 240 tribal agencies. 
Services supported under the OAA include: 
Medication for seniors

Meals for seniors

At-home care services

Social services

Community planning

Legal resource
Types of Nursing Home Abuse Cases We Take
The Shapiro Legal Group, PLLC can help you and your loved one with several different types of nursing home abuse cases if they have suffered one or more of the below injuries while in a nursing home
Bed sores, pressure sores and/or decubitus ulcers

Medication errors

Falls resulting in broken bones or brain injuries

Failure to timely diagnose and treat various medical conditions including but not limited to shingles

Infections, pic line infections, UTI, and sepsis

Wrongful death

Unexplained fractures

Attacks by other residents or staff physical and/or sexual

Dehydration and/or malnutrition

Unexplained sudden deaths

Any other injury related to abuse, neglect, and/or failure to monitor the patient
How Our Nursing Home Abuse Attorney Can Help
The nursing home abuse attorneys of Shapiro Legal Group, PLLC can help you or your elderly loved one get the justice they deserve. As nursing home abuse attorneys, we have experience in this specific sector of personal injury law and are knowledgeable on what steps need to be taken to hold the facilities accountable for the neglect or abuse the resident endured. 
We will advocate and argue on your and your loved one's behalf to receive compensation for costs associated with the neglect or abuse, including:
Medical bills

Pain and suffering

Funeral expenses

Rehabilitation expenses

Attorneys fees
What to Expect During a Nursing Home Abuse Lawsuit
Nursing home abuse lawsuits are usually filed by individuals who have been neglected or abused in a nursing home facility, or their immediate family. In these cases, those who have suffered from neglect or abuse can pursue compensation for their suffering. In these cases your lawyer will:
Work to prove that the nursing home facility had a legal obligation, or duty of care, for the victim and did not meet it

Gather evidence to demonstrate the staff members harmed the resident through either negligence or intentional acts of abuse

Show that the resident suffered serious, long-term, and/or permanent injuries due to the negligent or abusive actions of the staff member

Advocate for the resident or their family to receive financial compensation to cover medical treatment, emotional turmoil, or funeral expenses 
Typically, nursing home abuse cases end in settlement, however, occasionally a case will go to litigation where a judge will determine the outcome of the case. 
How Much Does a Nursing Home Attorney Cost?
At the Shapiro Legal Group, PLLC, we are confident that we can help you gain compensation for the mistreatment you or a loved one endured in a nursing home facility. Because we are confident in our capabilities and want to make our services more accessible to those that need them, our nursing home attorneys work for you on a contingency fee basis. This means that you don't pay us anything until after we win your case.
What to Do if a Loved One is Being Abused in a Nursing Home
If you believe a loved one is being abused in a nursing home, it is important that you act quickly, as abuse can rapidly worsen or become deadly. 
Actions you can take include:
Call 911 and report the abuse

Call a nursing home abuse hotline

Reach out to an

ombudsman

(state representative for residents)

Contact

Adult Protective Services

(APS) 

Work with doctors and other medical personnel to get a professional opinion
Advocating for a Nursing Home Resident
If you have a loved one living in a nursing home, it is important you advocate on their behalf, especially if you suspect mistreatment. Some steps you can take to help protect them from mistreatment or abuse include: 
Visit unannounced at odd hours. This gives you the opportunity to see how the staff interacts with residents when they believe no one is watching and allow you to identify any signs of suspicious activity. If they know you are coming, they will likely be on their best behavior.

Talk to your loved one and other residents about the staff. Ask them if there are staff members who are unkind or abusive. If there are multiple reports of a staff member mistreating residents, report this information to the facility's administrator. 

Observe the staff. If you see actions or behavior that seem unsafe, be proactive. Speak with the facility administrator, call your state's ombudsman, or if possible, find a different facility for your loved one. 
Be sure to keep detailed records of conversations you have with your loved one, other residents, staff, and administrators. Jot down specifics like date, time, place, and topics discussed. This information can be helpful later on if you or your loved one choose to file a claim. 
Speak to Our Nursing Home Abuse Attorney Today
We understand that learning your loved one has been a victim of nursing home abuse is not easy, and your elderly loved one deserves to be treated with care and respect. At the Shapiro Legal Group, PLLC we will fight for justice for you and your loved one. Contact us today to find out more about how we can help.