Discovering that a family member has been a victim of nursing home abuse is a devastating blow. It's a violation of trust that leaves victims and their families feeling helpless and uncertain. In these situations, the road to justice can seem long and daunting.
At Shapiro Legal Group, PLLC, we understand how challenging these cases can be. Our Kentucky nursing home abuse attorneys are dedicated to helping victims navigate the legal process and secure fair compensation for the harm they have suffered.
If you or a loved one has been the victim of nursing home abuse, don't wait to seek help—contact us today to take your first steps toward justice.
Why Choose Our Kentucky Nursing Home Abuse Attorney?
We have extensive experience representing clients in nursing home abuse cases throughout Kentucky. Our attorneys will work closely with you and your family to guide you through each of step the legal process.
We co-counsel with top personal injury and mass tort firms, which enables us to leverage their expertise and resources to hold responsible parties accountable for nursing home abuse.
We prioritize open and honest communication, providing compassionate guidance and support to you and your family throughout your case. Our firm will fight to make sure that your voice is heard and your rights are protected.
Detecting Potential Signs of Nursing Home Abuse
Identifying nursing home abuse and neglect can be challenging, as victims may be unaware or reluctant to report it. Therefore, it is crucial for family members and friends to be vigilant and familiarize themselves with the signs of abuse in order to intervene effectively.
While some of these signs can occur naturally with aging, it is the consistency, patterns, and presence of multiple indicators that raise concern for potential abuse. If you notice any of the following, your loved one may be the victim of nursing home abuse:
Unexplained injuries, such as fractures, sprains, or burns
Bruises, welts, or cuts in various stages of healing
Sudden and unexplained behavioral changes, such as increased agitation, withdrawal, or depression
Fear or avoidance of specific staff members or certain areas of the facility
Unusual or excessive sedation of the resident
Signs of restraint, such as rope marks on wrists or ankles
Poor personal hygiene, including dirty clothing or unchanged diapers
Unexplained weight loss, malnutrition, or dehydration
Development of pressure ulcers, also known as bedsores
Signs of overmedication or irregular administration of medication
Missing money, valuables, or sudden changes in financial circumstances
Inadequate staff response to resident needs or requests
Types of Nursing Home Abuse Cases
At Shapiro Legal Group, PLLC, we handle a wide range of nursing home abuse cases, seeking justice for those who have suffered mistreatment in nursing home facilities. Our attorneys are well-versed in various types of nursing home abuse, including:
Bedsores, pressure sores, and/or decubitus ulcers
Medication errors
Falls resulting in broken bones or brain injuries
Failure to timely diagnose and treat medical conditions
Infections, including UTIs and sepsis
Wrongful death caused by negligence
Unexplained fractures
Physical and/or sexual attacks
Dehydration and/or malnutrition
Unexplained sudden death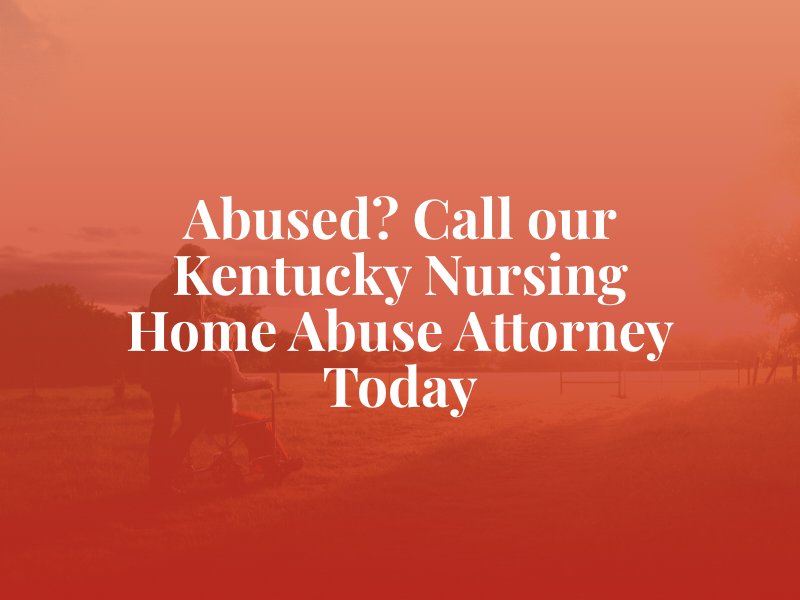 Why Do You Need an Experienced Kentucky Nursing Home Abuse Lawyer?
If you want to file a nursing home lawsuit, you need an attorney on your side. A Kentucky nursing home abuse lawyer understands the complexities of these cases and has the knowledge and skills to help you navigate the legal process effectively.
Your attorney can help you report the abuse to the appropriate authorities, interview witnesses and former employees, review records, and analyze medical documents to build a strong case. He or she can also negotiate with the nursing home on your behalf. If a satisfactory resolution cannot be reached, your lawyer will be prepared to file a lawsuit and represent your interests in court.
During every stage of your case, your lawyer acts as an advocate, ensuring your loved one's rights are protected throughout the legal process. He or she will fight to obtain the maximum compensation that your loved one deserves and hold the nursing home accountable.
Liability for Nursing Home Abuse
Determining liability for nursing home abuse requires a thorough examination of parties involved. Depending on the circumstances surrounding your case, you can name any of the following people in your lawsuit:
Owners and managers can be held accountable for negligent hiring, inadequate training, and poor maintenance that leads to harm
Nurses and caregivers are responsible for providing medical attention and care, and they can be liable for neglectful behavior.
Third parties, such as maintenance staff and product manufacturers, may also be held responsible for their negligence.
When one resident harms another, both the responsible resident and the nursing home can be held liable.
A nursing facility itself can be held liable for the actions of its employees.
What Damages May Be Available in Your Case?
In nursing home abuse cases, various types of damages may be available to compensate the victims. These can include economic damages to cover medical expenses, rehabilitation costs, and financial losses.
Non-economic damages may be awarded for pain and suffering, such as emotional distress, permanent disability, and loss of enjoyment of life. Additionally, punitive damages may be sought in cases involving intentional misconduct or gross negligence.
Seeking legal guidance can help determine the specific damages applicable to your case. With an attorney on your side, you can effectively pursue maximum compensation and address the harm that you or your loved one experienced.
Reporting Nursing Home Abuse in Kentucky
In Kentucky, there are multiple avenues available to report nursing home abuse and ensure the safety and well-being of elderly residents.
The first option is to contact Adult Protective Services, a government agency dedicated to investigating instances of abuse, neglect, and exploitation in nursing homes. They accept both written and oral reports and allow for anonymous reporting, which can help protect employees who may have witnessed abusive practices.
The Office of the Inspector General is another vital resource for reporting suspected nursing home abuse. As the agency responsible for licensing nursing homes, they conduct thorough investigations into any allegations of mistreatment. Additionally, the Office of the Attorney General operates an Abuse Tip Line, which you can reach at (877) 228-7384.
Speak to Our Kentucky Nursing Home Abuse Lawyer Today
Start your journey towards justice for nursing home abuse. At Shapiro Legal Group, PLLC, our attorneys will fight for your right to recovery and hold the nursing home accountable for its wrongful actions. Schedule your free legal consultation today at (800) 220-0984 or through our confidential online contact form.