Nursing home abuse is a serious epidemic. Across the country, senior citizens are suffering harm at the hands of the caregivers and facilities that they trust with their care. This level of mistreatment and neglect can have devastating effects, from worsening medical conditions to emotional trauma.
If you or a loved one have experienced abuse at a West Virginia nursing home, the attorneys at Shapiro Legal Group, PLLC can help. Our nursing home abuse attorneys are dedicated to holding these facilities and their employees accountable for their negligent actions. We will not rest until you and your family seek the justice that you deserve.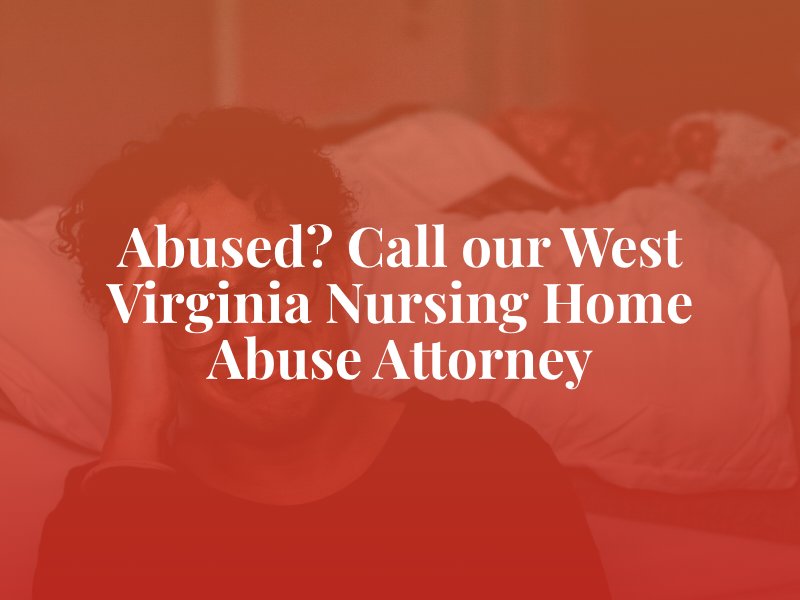 Why Choose Our West Virginia Nursing Home Abuse Attorney?
We have extensive experience and a successful track record in representing injury victims nationwide. Our firm has helped thousands of people recover compensation in cases involving negligence, including cases involving nursing home abuse.

Our collaborative approach sets us apart. We work closely with top personal injury and mass tort firms to ensure that our clients receive the best possible legal representation and maximize their chances of a successful case.

We prioritize open and honest communication with our clients. When you reach out to us for a free case consultation, we respond promptly within twenty-four hours to provide the support and assistance you need.
Recognizing Signs of Nursing Home Abuse
Nursing home abuse is a distressing issue that can have severe consequences for vulnerable elderly individuals. It is essential to be aware of the signs of abuse to ensure the safety and well-being of our loved ones in long-term care facilities. 
Here are some key indicators to watch for:
Physical signs

: Unexplained injuries such as bruises, burns, or fractures may be a sign of abuse, especially if they occur repeatedly or in various stages of healing.

Emotional changes

: Sudden or unexplained behavioral shifts, withdrawal, anxiety, depression, or fearfulness can indicate emotional abuse.

Neglect

: Poor personal hygiene, unattended medical conditions, weight loss, dehydration, or unsanitary living conditions may suggest neglectful treatment.

Financial exploitation

: Sudden changes in the elder's financial situation, unexplained withdrawals or transfers, or unauthorized use of their funds or property may indicate financial abuse.

Medication irregularities

: Overmedication or under-medication, improper administration, or refusal to provide prescribed medications are red flags.
Types of Nursing Home Abuse in West Virginia
Nursing home abuse in West Virginia encompasses a wide range of harmful actions, including physical, emotional, sexual, and financial abuse as well as neglect and abandonment. Shapiro Legal Group, PLLC represents victims in various types of cases that involve mistreatment in long-term facilities. 
These include:
Bed sores, pressure sores, and/or decubitus ulcers

Medication errors or failure to provide necessary medications 

Falls resulting in broken bones or brain injuries

Failure to timely diagnose and treat medical conditions

Infections, such as pic line infections, urinary tract infections, and sepsis

The untimely and preventable death of a resident

Unexplained fractures or underlying medical condition.

Physical or sexual attacks by other residents or staff

Dehydration and/or malnutrition

Unexplained sudden deaths without a clear cause

Any other injury related to abuse, neglect, and/or failure to monitor the patient
What Our West Virginia Nursing Home Abuse Attorney Brings to Your Case
Filing a claim against a nursing home for the abuse or neglect of your elderly loved one is not only a legal battle but also an emotionally challenging time. Nursing homes and their insurance companies are focused on minimizing claim payouts, making it difficult for your family to secure fair compensation. In these situations, you need an attorney on your side.
At Shapiro Group, PLLC, we understand the tactics employed by insurance companies and will skillfully navigate through their attempts to deny liability or undervalue your claim. Through a comprehensive investigation, evidence gathering, and the engagement of qualified experts, our attorneys will build the strongest possible case on your behalf. 
Beyond legal expertise, our attorneys know the emotional toll that this situation takes on you and your family. They provide compassionate support and guidance throughout the process, offering a listening ear and a shoulder to lean on. You can rely on your nursing home abuse lawyer to be your advocate, helping you navigate the complexities of the legal system while providing reassurance during this difficult time.
Proving Nursing Home Abuse Occurred
To file a civil lawsuit for nursing home abuse in West Virginia, proving abuse requires a combination of direct and circumstantial evidence. In civil cases, the burden of proof is a preponderance of the evidence, which means presenting clear and convincing evidence that shows the abuse is more likely to have occurred than not.
Evidence that can be used to prove nursing home abuse includes photographs, videos, and medical records. Eyewitness statements and expert testimony can provide additional support. Nursing home ratings, reviews, and any history of previous complaints against the facility can also be relevant.
By presenting a compelling collection of evidence, you strengthen your case and increase the likelihood of holding the responsible parties accountable for the abuse.
Possible Compensation Available in Your Case
When nursing home abuse occurs, the victim can suffer from serious physical, emotional, and financial harm. By taking legal action, you can recover compensation for the harm that you or your loved one suffered due to the abuse, such as: 
Medical bills, including medications, emergency visits, hospitalization, surgeries, therapy, and specialist consultations

Punitive damages, which are awarded to punish the abuser for harmful actions and deter others from engaging in similar behavior

Pain and suffering damages, such as emotional distress, chronic pain, loss of quality of life, and permanent disability
What's the Time Limit for West Virginia Nursing Home Abuse Cases?
In West Virginia, the time limit, or statute of limitations, for filing a nursing home abuse case is typically two years from the date of the abuse. If you do not file within this timeframe, the court will likely dismiss your case. It's crucial to take legal action as soon as possible to preserve your rights and seek justice for your loved one.
Speak to Our West Virginia Nursing Home Abuse Lawyer Today
If you or your loved one has suffered abuse at a West Virginia nursing home, trust the attorneys at Shapiro Legal Group, PLLC to hold the facility accountable. Our nursing home abuse attorneys are dedicated to standing by your side, fighting for your loved one's rights, and relentlessly seeking justice on your behalf. Contact us online or at (800) 220-0984 to discuss your case today.