Many vulnerable elderly individuals suffer mistreatment and neglect in the very facilities that should provide them with compassionate care. The impact of nursing home abuse is devastating, causing physical and emotional harm to those who deserve respect and dignity. If you or a loved one has experienced such abuse, you deserve justice—and Shapiro Legal Group, PLLC can help.
Our California nursing home abuse attorneys are dedicated to protecting the rights of those who have suffered from mistreatment and neglect. You can trust our firm to fight on your behalf and seek justice for you or your loved one.
California Nursing Home Abuse Resources
To immediately access the resources at any point on this page, click the corresponding links below.
Why Choose Our Attorney?
What is Nursing Home Abuse?
Identifying Signs of Abuse
How We Can Help
Types of Cases We Handle
What Damages May Be Available in Your Case?
What is the Statute of Limitations?
Call a Lawyer Today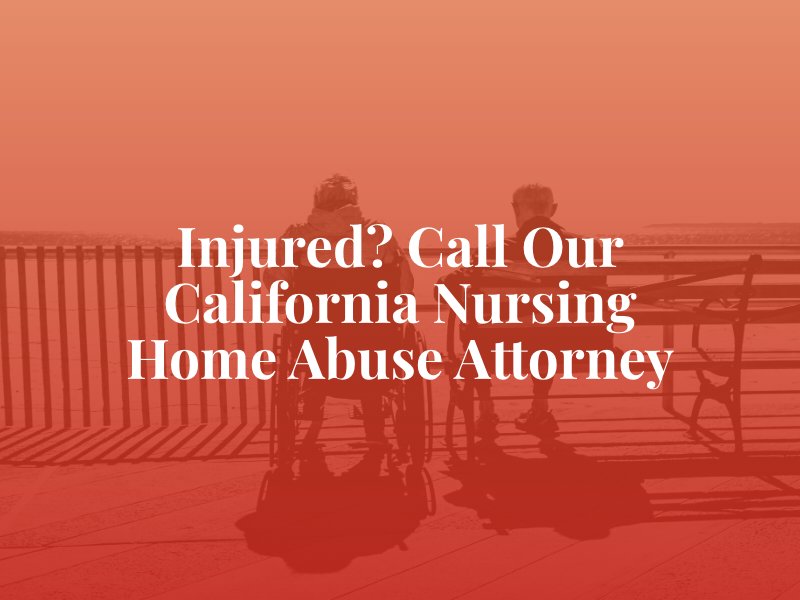 Why Choose Our California Nursing Home Abuse Attorney?
With over 20 years of experience, our firm specializes in cases involving incidents of nursing home abuse. We will leverage our skills and knowledge to craft a compelling case in your favor.
Our firm represents people in every state to provide the best possible legal representation.
We understand how difficult the aftermath of nursing home abuse can be. We will provide the compassionate support that you and your family need to get through this challenging time.
What Is Nursing Home Abuse?
Nursing home abuse is a distressing phenomenon that occurs when staff members or administrators at long-term care or living facilities intentionally cause harm to their elderly residents. This abuse can manifest in various forms, including physical, mental, emotional, and financial exploitation. Neglect is also a form of abuse that occurs when a nursing home fails to meet the basic needs of its residents.
This mistreatment is a grave violation of trust and a betrayal of the responsibility these facilities hold in caring for their vulnerable residents. The consequences of nursing home abuse and neglect can be devastating. Physical abuse may lead to injuries such as bruises, fractures, or even life-threatening conditions. Emotional abuse can result in severe psychological distress, anxiety, depression, and a decline in mental well-being. Financial abuse can leave elderly individuals financially depleted and vulnerable.
Moreover, nursing home neglect can have serious health implications, including malnutrition, dehydration, infections, and an overall deterioration in physical health. Tragically, in some cases, nursing home abuse and neglect can even result in the untimely death of residents.
Identifying Signs of Abuse in California Nursing Homes
When it comes to protecting our elderly loved ones, it is crucial to be vigilant and proactive. Identifying signs of abuse is key to addressing the mistreatment and preventing potentially devastating consequences. If you notice any of the following signs, it is essential to take immediate action:
Unexplained bruises or injuries
Sudden changes in behavior or emotional state
Fear or anxiety around specific staff members
Malnutrition or dehydration
Poor hygiene or unclean living conditions
Unexplained financial transactions or missing personal belongings
Bedsores or other signs of neglect
Medication errors or improper administration
Isolation or lack of social interaction
Inadequate supervision or understaffed facilities
Unexplained medical conditions despite access to care
Sexually transmitted diseases or trauma around the genitals
How Our California Nursing Home Abuse Attorney Can Help
For nursing home abuse cases, the legal landscape can be intricate and challenging to navigate. These cases require a deep understanding of the complex laws and regulations surrounding nursing homes, as well as the ability to handle sensitive and emotionally charged situations. In these situations, you need all the help that you can get—and Shapiro Legal Group, PLLC can help.
Nursing home abuse lawsuits often involve a web of legal intricacies, including gathering evidence, interviewing witnesses, reviewing medical records, and assessing the extent of harm caused. Our firm has the expertise to navigate through these complexities, ensuring that no stone is left unturned in building a compelling case on your behalf.
With a commitment to justice, your California nursing home abuse attorney will tirelessly investigate your case and, if needed, pursue litigation to ensure your voice is heard. We understand the emotional toll that nursing home abuse takes on victims and their families, and we will provide compassionate support and guidance throughout the entire legal process.
Types of Nursing Home Abuse Cases We Help Clients With
At Shapiro Legal Group, PLLC, we represent clients in a wide range of nursing home abuse cases. If you or a loved one has experienced any of the following, contact our firm for a free case consultation:
Bed sores, pressure sores, and decubitus ulcers
Medication errors
Falls resulting in broken bones or brain injuries
Failure to timely diagnose and treat medical conditions, including shingles
Infections, including pic line infections, UTIs, and sepsis
Wrongful death cases
Unexplained fractures
Attacks by other residents or staff, both physical and sexual
Dehydration and malnutrition
Unexplained sudden deaths
Any other injuries related to abuse, neglect, or failure to monitor the patient
What Damages May Be Available in Your Case?
In a California nursing home abuse lawsuit, you or your loved one can claim various types of damages to recover from the hardships that you have suffered. The specific damages awarded by the court will depend on the circumstances of your case, but here are some potential damages that you could claim:
Medical Expenses: You may be entitled to compensation for past and future medical costs, including hospital stays, surgeries, medications, rehabilitation, and therapy.
Pain and Suffering: Damages can be sought for physical pain, emotional distress, mental anguish, and loss of enjoyment of life caused by abuse or neglect.
Punitive Damages: If the defendant's actions were particularly egregious or reckless, punitive damages may be awarded to punish the wrongdoer and deter similar conduct in the future.
Financial Losses: Compensation may be sought for any financial losses suffered due to the abuse, such as stolen assets, damaged property, or fraudulent activity.
Statute of Limitations for California Nursing Home Abuse Cases
The statute of limitations, or filing deadline, for California nursing home abuse lawsuits varies. For acts of physical elder abuse, it's two years. Medical malpractice claims have a one-year statute of limitations, while actions against public entities have six months. Financial elder abuse involving theft of property and fraud has a three-year statute of limitations.
Speak to Our California Nursing Home Abuse Lawyer Today
Whether you have concerns about a loved one's well-being or have personally experienced mistreatment, the attorneys at Shapiro Legal Group, PLLC can help you seek the justice that you deserve. Contact us today at (800) 220-0984 to schedule a free case consultation and discuss your legal options with a California nursing home abuse attorney.