Millions of people around the world have a strong desire to eliminate weeds from their lawns, gardens or somewhere else on their properties. Weeds are not only unsightly, but they can also kill off desired plants and even spread pollens that can be harmful if they are inhaled. Countless products have hit the market over the years that were designed to kill weeds. Few if any were ever as successful as Roundup, which was brought to the world by Monsanto.
Unfortunately, people who were exposed to the active ingredients in Roundup began to allege that they had become ill because of their exposure to this line of products. As such, Monsanto Roundup lawsuit lawyers began to get involved. If this has happened to you or to someone you love, contact a mass tort attorney from Shapiro Legal Group, PLLC immediately to get the legal advice you need. We always give free consultations, call at (888)640-3784.
Roundup Lawsuit Resources
To immediately access the resources at any point on this page, click the corresponding links below.
Why Choose Us for a Roundup Lawsuit?
About Monsanto's Roundup
How Are People Exposed to Roundup?
Allegations of Roundup Side Effects
Roundup & Non-Hodgkin's Lymphoma
Who Is Most At-Risk of Adverse Health Effects?
Why File a Roundup Cancer Lawsuit?
Do I Have Grounds for a Roundup Lawsuit?
How Our Roundup Attorney Helps With Your Case
Process of a Roundup Lawsuit
Personal Injury Statute of Limitations
Potential Damages in Your Case
The Realities of Taking on Corporations
Call an Attorney Today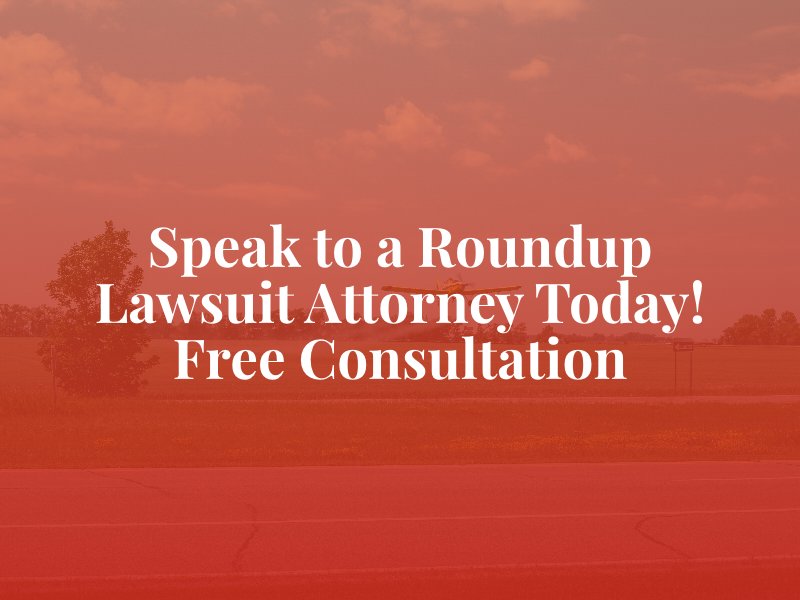 Why Choose Us for Your Roundup Lawsuit Lawyer?
Mark Shapiro, our founding mass tort attorney, has been handling cases, such as Monsanto Roundup for more than 20 years.
Our Roundup weed killer lawyer only specializes in mass tort litigation, giving us insight and specialized knowledge to handle your case.
At Shapiro Legal Group, PLLC, our Roundup lawsuit attorney ensure that any negligent parties are held responsible for your injuries by pursuing the maximum possible compensation you need to make a full recovery.
About Monsanto's Roundup
Roundup has been around in some form or fashion since the 1970's. It is generally believed that Roundup is the world's most popular herbicide that kills both weeds and grass. The active ingredient in Roundup is known as glyphosate, which many have alleged is a carcinogen. If it's proven definitively that glyphosate is a carcinogen, it could lead to serious problems for everyone as it's estimated that over the course of 20 years, 2.6 billion pounds of glyphosate from Monsanto has been sprayed on farms in the United States alone. Given the revenue that generates, it should come as no surprise that Monsanto would likely defend this product aggressively.
How Are People Exposed to Roundup?
Because glyphosate is so effective at killing unwanted plants, Roundup and other products containing glyphosate are extremely popular. Many people use this product in both their homes for private use, and on farms for widespread agricultural operations. 
Anyone can be exposed to Roundup, especially if they touch plants treated with the herbicide or breathe the air near where it was sprayed. Exposure may also occur if someone eats food grown in soil treated with Roundup or drink from a water supply contaminated by the herbicide. 
Allegations of Monsanto Roundup Side Effects
Unfortunately, the worst fears of many people came to pass as consumers began to allege that their exposure to Roundup led to the diagnosis of several different forms of cancer. Specific types of cancer linked to exposure to Roundup included:
Skin lymphoma
Burkitt lymphoma
Peripheral T-cell lymphoma
Mantle Cell lymphoma
Follicular lymphoma
Hairy cell lymphoma
Large B-cell lymphoma
Non-Hodgkin's Lymphoma
The reports of cancer that was allegedly caused by exposure to glyphosate became so widespread that eventually, in 2015, the World Health Organization stepped in. The WHO, as it's commonly known, oversees its International Agency for Research on Cancer, or IARC. That year, IARC warned the world that glyphosate was probably a carcinogen. While no specific link has been established between Roundup and cancer, studies have shown that exposure to glyphosate has led to the development of cancer in laboratory mice.
Roundup & Non-Hodgkin's Lymphoma
Non-Hodgkin's lymphoma is a type of cancer that starts in the lymphatic system, which is part of the immune system. This condition is very serious and often requires extensive medical treatment. According to the American Cancer Association, the five-year relative survival rate for non-Hodgkin's lymphoma ranges from 97% to 57%, depending on the stage and type of cancer.
The glyphosate found in Roundup is most likely a major cause of non-Hodgkin's lymphoma. According to a 2019 study, humans who had significant exposure to glyphosate were 41% more likely to develop cancer than humans who were not exposed. These researchers found a compelling link between exposure to glyphosate-containing herbicides and non-Hodgkin's lymphoma. 
Who Is Most At-Risk of Adverse Health Effects from Roundup?
People are at the highest risk for glyphosate-related health problems if they use Roundup regularly. The highest levels of exposure typically occur on the job, especially if you work in an agricultural- or landscape-related position. Even people who work in non-agricultural positions, such as tour guides or office managers, may be at a higher risk of Roundup-related health problems if they work at a farm or another agricultural site.
If you work in any of the following occupations and were later diagnosed with a cancer or illness associated with Roundup exposure, you should contact an attorney as soon as possible:
Farmer

Groundskeeper

Gardener

Farmworker

Landscaper

Pesticide or herbicide applicator

Non-agricultural workers employed at farms
Why File a Roundup Cancer Lawsuit?
If you or a loved one were diagnosed with cancer and were exposed to Roundup regularly, you deserve justice. Monsanto should have warned consumers about the dangers of glyphosate, and by failing to do so, the corporation is liable for the damages that these victims have suffered. You have a legal right to hold Monsanto for the harm that it has caused you or your loved ones by pursuing a lawsuit.
A Roundup cancer lawsuit allows you to recover financial compensation for any damages that you suffered as a result of your Roundup-related cancer. These damages may include the cost of your medical care; the lost wages that you incurred during treatment and recovery; and the pain and suffering that you endured.
In these situations, a Roundup lawsuit attorney from Shapiro Legal Group, PLLC can protect your best interests and navigate the complex litigation process. We will advocate aggressively for your right to fair compensation and will work tirelessly to craft a strong case proving the corporation's negligence.
Do I Have a Roundup Lawsuit Settlement Claim?
Over the years, thousands of people across the United States have filed lawsuits against Monsanto for the harm that they suffered. These claims allege that the company was aware of the dangers of its products and not only failed to warn consumers, but also purposely downplayed and suppressed the truth.
Several juries have rendered verdicts against Monsanto, compelling the company to pay millions of dollars to injured consumers. Generally, these plaintiffs had the following factors in common:
The plaintiffs were exposed to a significant amount of Roundup, often while working as farmers or landscapers, or on their personal properties.

The plaintiffs were exposed to Roundup over several years.

The plaintiffs were diagnosed with non-Hodgkin's lymphoma.
If you were diagnosed with non-Hodgkin's lymphoma and suspect that Roundup exposure is the cause, speak to an attorney at Shapiro Legal Group, PLLC right away. Your attorney will launch an investigation into your case and help determine if Roundup is the likely cause.
How Our Roundup Attorney Helps With Your Case
It can be daunting to face a large corporation like Monsanto in the courtroom. In these situations, you need a Roundup lawsuit attorney who can represent your claim, build a compelling case in your favor, and protect your best interests each step of the way.
At Shapiro Legal Group, PLLC, our attorneys specialize in litigation involving Roundup. We have the resources, knowledge, and network of expert witnesses necessary to develop a strong case establishing Monsanto's negligence. By hiring our firm to represent your case, you gain access to a host of benefits that could make a major difference during litigation.
Our Roundup attorneys can help your case in several areas:
Your lawyer can leverage case strategies and scientific evidence to build a strong case against Monsanto.

Your attorney can engage with expert witnesses who can provide testimony on your behalf.

Your lawyer will have handled similar cases in the past and can help you understand what to expect next during litigation.

Your attorney has strong negotiation skills and will skillfully protect your interests during discussions with Monsanto's attorneys.

Your lawyer can evaluate your damages and accurately calculate your estimated settlement, helping avoid future hardship.

Your attorney

will handle every matter related to your case so that you can focus on treatment and recovery, not complex litigation.
Process of a Roundup Lawsuit
The Roundup lawsuit process can be long and time-consuming. Depending on your case, it could take two to three years to resolve. By hiring an attorney, you gain an advocate who can guide you through the litigation process and alleviate as much stress as possible during this challenging time.
When filed as an individual civil lawsuit, a Roundup claim typically follows the below steps:
First, you will attend a free consultation with a Roundup lawsuit attorney who will evaluate your case and determine whether you have a claim.

Next, your attorney will review and gather evidence in preparation for filing your lawsuit, such as medical records and evidence of exposure.

Then, your lawyer will file a civil complaint on your behalf in court. Monsanto's legal team will then respond to the complaint.

After the claim is filed, the discovery process will begin. Your attorney and Monsanto's lawyers will exchange evidence, take depositions, and perform other activities.

Next, pre-trial motions are filed, and hearings are held to determine which evidence will be presented at trial.

Finally, your trial will take place. You will present your arguments in front of a judge or jury, who will decide whether you are eligible for compensation. 
Roundup Lawsuit Statute of Limitations
If you were diagnosed with cancer and believe that Roundup is responsible, you must act quickly. In every state, there is a law known as the statute of limitations, which sets time limits for filing certain types of lawsuits. If you miss the filing deadline for your claim, the court will very likely dismiss your case—preventing you from recovering compensation.
Roundup lawsuits fall under the category of product liability. Different states have different statutes of limitations for these types of claims. 
For example:
In California, Illinois, and Texas, you have two years from the date of your cancer diagnosis to file a Roundup lawsuit.

In New York, Connecticut, and Massachusetts, you have three years from the date of your diagnosis to file your claim.

In Minnesota, Nebraska, and Tennessee, you have four years from the date of your diagnosis to file.
To protect your right to recovery, speak to a Roundup lawsuit attorney as soon as possible following your diagnosis. Your lawyer will be able to identify the right statute of limitations for your case. If you qualify, your lawyer will then help initiate your lawsuit so that you have a chance at a fair settlement.
Potential Damages in a Roundup Lawsuit
By filing a Roundup lawsuit, you have the right to recover compensation for any damages that you suffered as a result of your cancer diagnosis. These damages may include:
Medical costs, such as surgeries, doctor's visits, and hospitalizations

Prescription medications

Disability accommodations, such as mobility equipment

Lost wages and future earnings

Loss of quality of life

Mental anguish and emotional distress

Chronic pain

Permanent disability
Several factors play into the value of your claim, so it is difficult to estimate your settlement without speaking to an attorney. For example, if you have late-stage non-Hodgkin's lymphoma, you may require more medical treatment and spend long periods away from work. Therefore, your settlement will likely be higher than a person with localized, early-stage non-Hodgkin's lymphoma.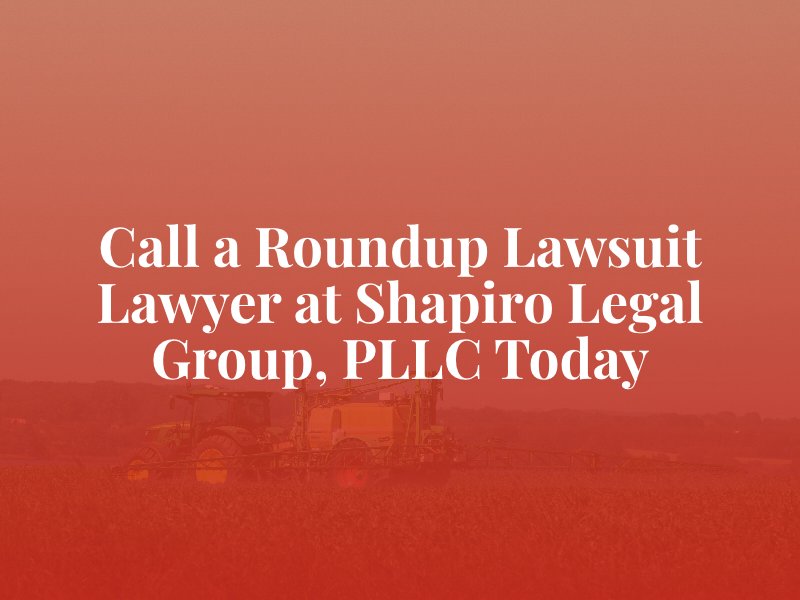 The Realities of Taking on Corporations
Monsanto is an enormous corporation that understands how to protect itself legally. Those who believe that they have been diagnosed with cancer as a result of exposure to Roundup need to avoid handling the pursuit of justice by themselves and instead seek legal representation with a roundup lawsuit attorney.
Seek Justice With Our Expert Roundup Lawsuit Lawyer Today
Anyone who has been harmed in this manner needs to seek the help of a Monsanto Roundup lawyer who understands what it takes to hold even the most powerful corporations accountable for the harm they have done to consumers. Contact the Shapiro Legal Group, PLLC, today to schedule a free initial consultation.