For 12 years, from 2003 to 2015, the 3M Company sold millions of dual-ended Combat Arms Earplugs Version 2 (CAEv2) to the military. Countless soldiers used these earplugs during training and deployment…only to suffer serious hearing loss later. The earplugs failed to block dangerous noise levels and protect soldiers' hearing as intended.
Hearing loss is a significant issue among soldiers. If you used the 3M Dual Combat Arms earplugs, served between 2003 and 2015, and suffer from hearing loss or tinnitus, contact Shapiro Legal Group, PLLC for a free product liability lawsuit consultation. As of March 2020, the multidistrict litigation established for these cases contains over 6,800 pending 3M earplug lawsuits. Our 3m combat earplug lawyer is available 24/7 to evaluate your case. Call us at (888) 640-3785.
3M Combat Earplug Resources
To immediately access the resources at any point on this page, click the corresponding link below.
Why Choose Our 3M Combat Earplug Attorney?
What is the 3M Earplug?
History of 3M Combat Earplug Lawsuits
Why Are Consumers Filing Claims Against 3M Company?
Common Hearing Loss Symptoms
How Hearing Loss Can Impact Veterans
How Many Soldiers Were Impacted?
How a 3M Combat Earplug Attorney Helps with Your Case
Can you File a Claim?
3M Combat Earplugs FAQ
Speak to Our Attorney Today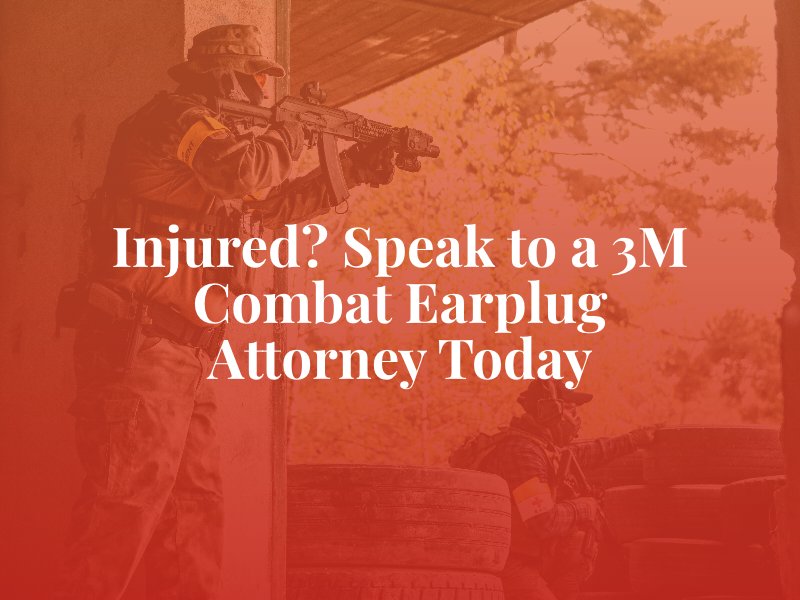 Why Choose Us for Your 3M Combat Earplugs Lawsuit?
We handle product liability cases nationwide.
We have acquired a reputation for excellence over the years.
We prioritize responsiveness and communication.
We have a lead attorney with more than 20 years of experience.
Our mass tort litigation attorney offer free, no-obligation case reviews.
What Is the 3M Earplug?
From 2003 to 2015, the 3M Company and Aearo Technologies, Inc. provided dual-ended Combat Arms earplugs to members of the United States military. These earplugs were intended to protect military members from loud sounds that they may encounter during combat, such as bomb blasts, gunfire, and helicopter noise.
The Combat Arms earplugs are non-linear, selective attenuation earplugs. Unlike other models of plugs, each side of the 3M earplug offers different levels of sound protection. The olive-colored end blocks all types of sound. If a soldier wears the yellow-colored end, the plug will significantly reduce loud noises such as explosions, but he or she is still able to hear words spoken by other people in the area.  
The 3M Combat Arms earplugs have design defects that cause them to become loose in a person's ear, allowing loud, dangerous noises to come through. In some cases, the earplug's stem is too short to fit into some soldiers' ear canals. As a result, many people who wore 3M earplugs during combat have suffered from hearing loss and tinnitus.
History of 3M Combat Earplug Lawsuits
In 2003, Aearo Technologies, Inc. won an exclusive contract to supply the military with dual-sided earplugs for combat. 3M acquired Aearo Technologies, Inc. in 2008 and continued to supply these earplugs to members of the Army, Navy, Air Force, and Marines. 
This military contract was in place until 2012 when Moldex-Metric Inc. won the contract from 3M and started to supply soldiers with its own line of combat earplugs. However, 3M continued to manufacture dual-ended earplugs until 2015. 
In 2016, Moldex-Metric. Inc. filed a whistleblower lawsuit against 3M and Aearo Technologies, Inc., claiming that the companies intentionally sold defective earplugs to the U.S. military. The lawsuit alleges that 3M committed fraud and thousands of soldiers have likely suffered hearing loss as a result of the defective earplugs. 
3M admitted no wrongdoing but agreed to settle the lawsuit in 2018, paying $9.1 million to the U.S. Department of Justice. Now, hundreds of veterans are filing hearing loss and tinnitus lawsuits against 3M and recovering financial compensation for the losses that they suffered.
Why Are Consumers Filing Claims Against 3M Company?
Military earplugs serve an extremely important purpose. They protect soldiers' eardrums from damage to prevent hearing loss and other problems, such as ringing in the ears. Hearing loss is the most common veteran disability, affecting more than 933,000 veterans as of the latest data. The defective 3M CAEv2 earplugs were the only attenuation option available to the military from 2003 to 2012. 3M Combat Arms Earplugs Version 2 were standard military equipment. Sadly, they did not work the way they should have.
Lawsuits against 3M allege that the earplugs contained a defect and that this compromised the item's ability to properly protect soldiers from hearing damage associated with the typical combat environment, including blasts and gunshots. The lawsuits claim that 3M knowingly committed fraud against the military by recognizing the deficiencies of the earplugs yet failing to warn the military. The lawsuits also claim that 3M intentionally falsified earplug test results to avoid liability for the defects. In 2018, the 3M Company agreed to pay claimants $9.1 million to resolve their cases.
Common Hearing Loss Symptoms
Hearing loss can occur as a result of a single event involving extremely loud noise, such as an explosion. This injury may also happen due to repeated, long-term exposure to dangerous noise levels. These risks are prevalent in the military, which is why many service members were required to wear 3M earplugs.
Symptoms of hearing loss can be very subtle and can become progressively worse over time. Below are a few common signs of this condition:
Muffled speech and other sounds

Difficulty hearing consonant sounds

Difficulty understanding spoken words

Needing to turn up the volume on the television or other devices

Frequently asking others to repeat themselves

Needing others to speak more loudly, clearly, or slowly
If you notice any symptoms of hearing loss, you should seek medical attention as soon as possible. Your doctor can determine the severity of your condition and recommend options for treatment. 
How Hearing Loss Can Impact Veterans
Hearing loss can have a major impact on your personal and professional life. Many people with this condition experience a decrease in their self-esteem and confidence due to difficulties communicating with others. Hearing loss can also limit a person's ability to learn new skills or fully participate in work. 
If you have hearing loss, you may find yourself avoiding social situations or withdrawing from conversations. You can experience significant emotional distress and mental anguish. You may be afforded fewer work or educational opportunities due to these communication problems. 
Hearing loss can impact your finances as well. You may need to pay for expensive medical care and specialized treatments, depending on the severity of your condition. You may need to pay for disability accommodations like hearing aids. 
How Many Soldiers Are Believed to Have Been Impacted by 3M Earplugs?
The exact number of soldiers who have been injured by defective 3M earplugs is currently unknown. However, these earplugs were distributed to thousands of soldiers across multiple branches of the U.S. military. Many of these affected individuals have suffered from complete or partial deafness, ringing in the ears, and persistent buzzing, hissing, clicking, or roaring sounds.
Which Service Members Were Most Likely to be Affected?
Certain service members are more likely to suffer from earplug injuries than others. These injuries occurred as a result of exposure to elevated noise levels, especially near combat zones. Individuals who worked with or around any of the following are very likely to suffer from hearing loss or damage:
Heavy machinery

Gunfire

Explosions

Jet engines

Helicopters
How a 3M Combat Earplug Attorney Helps with Your Case
If you want to file a lawsuit against 3M due to injuries caused by defective earplugs, having an attorney on your side is important. 3M is a very large corporation that has a team of aggressive, highly paid attorneys who are dedicated to protecting its interests. You need someone who will fight for your rights and hold the company accountable for the damages that you suffered.
To obtain the best possible results in your case, you need a lawyer who can provide the experience, skills, and resources necessary to represent your 3M earplugs lawsuit. At Shapiro Legal Group, PLLC, our attorneys can help your case in several ways:
Access to Resources to Prove Your Case:

3M earplugs lawsuits are highly complex and require significant evidence to prove the nature of the defect and your injury. Your lawyer will have experience representing clients in similar claims and can leverage case strategies, expert witnesses, scientific evidence, and other resources to prove your right to recovery.

Advocacy for Your Maximum Possible Award:

When you hire an attorney to represent your case, he or she will have a priority to obtain your highest possible settlement. Your lawyer will calculate your potential award and advocate aggressively for your maximum compensation. Shapiro Legal Group, PLLC has recovered millions of dollars on behalf of our clients, including victims of 3M earplugs. 

The Ability to Handle Your Case from Start to Finish:

When you are recovering from a hearing injury or coping with hearing loss, pursuing a lawsuit is often the last task on your mind. Your lawyer will take care of all matters related to your case, from preparing paperwork to negotiating with defense attorneys on your behalf. You will be able to focus on recovery, not complex litigation.

Knowledge of Product Liability Laws Nationwide:

Many 3M lawsuit attorneys, like the ones at Shapiro Legal Group, PLLC, represent clients in every state. Your lawyer will have a strong knowledge of product liability claims and will know what you need to establish to prove your right to recovery. 
Can You File a Claim?
If you served in the military in the window of time when 3M was providing its dual-ended Combat Arms earplugs and you now have hearing loss, tinnitus, pain or other related problems, you might have a case against 3M. A product liability lawsuit claims the manufacturer or distributor released an item that contained a defect in its design, production or marketing that caused your injuries. Find out if you have all the necessary elements to join the multidistrict litigation against 3M during a free consultation with Shapiro Legal Group, PLLC today.
After you schedule a free consultation with our product liability lawyers, collect information about your potential case. Help your 3m combat earplug lawyer analyze your claim by gathering records such as hearing test results from the VA hospital and official medical documents. Also, provide relevant details such as the dates you served in the military and when you used the earplugs. Write down questions you wish to ask an attorney, such as the price of legal fees and how long your case might take to resolve. Preparing for your initial consultation could make it more fruitful for you.
3M Combat Earplugs FAQ
Why Are 3M Combat Earplugs Defective?
3M promised the U.S. military that its Combat Arms earplugs were safe and effectively blocked out dangerous levels of noise that could harm soldiers. Unfortunately, these plugs were designed defectively and were prone to becoming loose in the ear. As a result, many soldiers have suffered from hearing loss and other debilitating injuries.
What Are the Treatment Options for 3M Hearing Loss?
If you suffered hearing loss as a result of 3M earplugs, it is important to speak with a doctor right away. Depending on the severity of your condition, your doctor may recommend surgical procedures, hearing aids, or cochlear implants. You may also obtain therapies to cope with the impact of the injury.
Who Qualifies for a 3M Combat Arms Earplugs Lawsuit?
You may qualify for a lawsuit against 3M if you served in any branch of the U.S. military between 2003 and 2015. You must have been issued a dual-sided 3M Combat Arms earplug during your service. Finally, you must have suffered from a hearing-related injury, such as tinnitus and loss of hearing.
What Evidence Do You Need to Prove a 3M Earplugs Lawsuit?
To prove a lawsuit against 3M, you will need to show that the product was defective; you suffered injuries; and that the product defect is responsible for the injury. There are several pieces of evidence that you could leverage to prove your claim, such as:
Medical records

Evidence of your military service

Scientific research and analysis

Expert witness testimony
What Compensation Can You Recover in a 3M Lawsuit?
You have the right to seek compensation for the damages that you suffered as a result of your hearing loss. You can recover damages for any financial losses, like medical expenses, lost wages, and a loss of earning ability. You can also secure a settlement for the emotional and physical pain and suffering that you endured. Your attorney can help you calculate your potential award and recover fair compensation.
Contact Us for Your 3M Combat Earplugs Lawsuit
Knowingly furnishing military personnel with defective earplugs is a disgrace. At Shapiro Legal Group, PLLC, we are passionate about protecting the rights of injured veterans against negligent and fraudulent product manufacturers. We may be able to help you and your family obtain fair compensation from 3M for its part in causing your hearing loss or injury. Our attorneys are prepared to fight for justice in your 3M combat earplugs case and can also advocate for you in a Camp Lejeune water contamination lawsuit, if you or a loved one served on that base.
The manufacturing company might owe you money to reimburse your health care expenses, pain and suffering, lost wages, legal expenses, and more related to hearing damage. Learn more about your unique case today with our 3m combat earplugs lawyer. Request a free initial consultation online or at (888) 640-DRUG.