After a study was published by the National Institutes of Health (NIH) in 2022 finding the usage of chemical hair straighteners linked to a number of reproductive cancers, victims across the United States joined together to file class action lawsuits against the manufacturers of said products. 
If you're here due to chemical hair straighteners harming you or someone you love, continue reading to understand the long-term health detriments tied to the usage of chemical hair straighteners and an explanation of chemical hair straightener lawsuits. 
Chemical Hair Straightener Injury Resources
To immediately access the resources at any point on this page, click the corresponding link below.
What is a Chemical Hair Straightener?
Who Uses Chemical Hair Straighteners?
Side Effects of Chemical Hair Straighteners
Long-Term Medical Effects
Product Liability Lawsuits
Can a Mass Tort Be Filed?
What Brands Are Named in Lawsuits
Speak to a Lawyer Today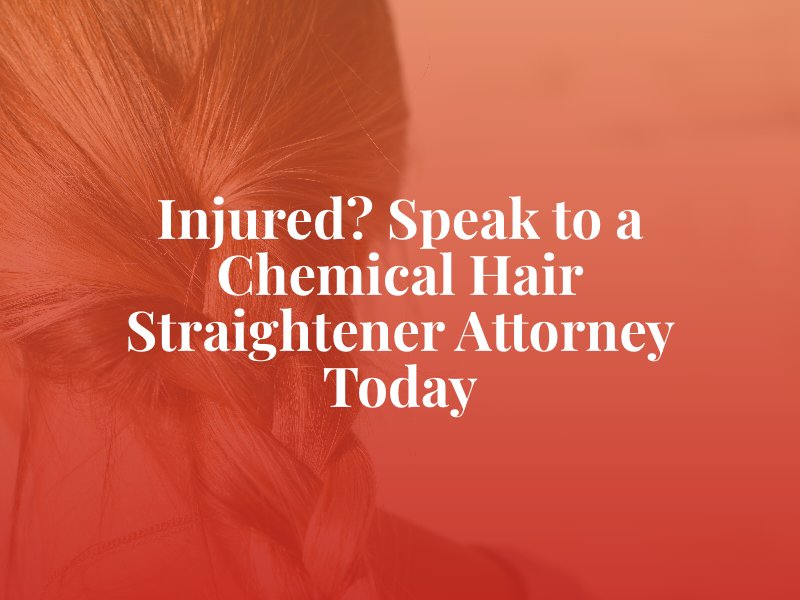 What Is A Chemical Hair Straightener? 
A chemical hair straightener is a cream product used on the hair which changes the hair texture through chemical processing (called lanthionization). These products, which can be called permanent hair straighteners or relaxers, can be purchased from a local drugstore or supermarket. Additionally, individuals seeking this type of hair treatment can also go to their local salon and beauty parlor to receive a professional permanent straightening treatment. 
Regardless of if an individual takes a do-it-yourself approach to their chemical hair straightening or goes to the salon, the core process works the same way:

You or your hair care professional applies the chemical solution to the hair. The solution modifies and

alters how the keratin proteins in your hair are structured

, dissolving the disulfide bonds in hair. The fewer disulfide bonds in a strand of hair, the more straight the hair is. 

Depending on the treatment type, you or your hair stylist may apply a neutralizer to the hair. This halts the bond-breaking process, causing the hair to adhere to the desired straight texture. 

These chemicals will sit on your hair and scalp for potentially a few hours to set in properly. At this time, individuals receiving this treatment will be cautioned against showering, working out, or swimming to allow the product to be fully set. 
In summary, chemical hair straighteners damage the hair so the strands release their natural curl pattern. 
Who Uses Chemical Hair Straighteners? Why Are They Used? 
Typically individuals who have naturally curly or coily hair will consider using chemical hair straighteners. According to Allure, curly hair is defined as having "loose to tight loops or corkscrews." Coily hair is considered the curliest hair texture, having "strands [that] form very tight, small curls or zig-zags." Coily hair is often also called afro-textured or kinky hair. 
In attempting to adhere to Eurocentric beauty standards that celebrate straighter hair, a large percentage of the individuals who use chemical hair straighteners are Black or non-white. In fact, discrimination against Black individuals for not conforming to straight hair is linked to affecting the economic, social, and professional lives of Black people – women especially. 
In the United States, approximately 90% of Black and brown women use chemical hair straighteners on themselves or their children. 60% of the individuals who used chemical hair straighteners in the NIH study previously discussed were Black women.
What Are the Side Effects Of Using Chemical Hair Straighteners? 
There are a number of immediate and long-term effects of using chemical hair straightening products and treatments. 
Immediately or close to treatment application, individuals can experience the following side effects: 
Hair Breakage

Chemical Burns

Scalp Inflammation

Eczema

Hair Loss

Damage to the Hair Shaft

Change in Hair Color and Composition 
While these short-term side effects are painful and distressing, the long-term impact can have even more serious health implications leading to debilitating injury and fatalities. 
Long-Term Medical Effects of Chemical Hair Straightener Usage
In the NIH study from 2022, the researchers found that women who used chemical hair straightening products more than four times in a year were two times as likely to develop uterine cancer.
The primary cause of these reproductive cancers is the endocrine-disrupting chemicals (EDCs) found in most hair relaxers and chemical hair straightening products. Examples of these chemicals are bisphenol A (BPA), formaldehyde, parabens and toxic metals.
The long-term health consequences of the usage of chemical hair straightening products can include the following:

Uterine Cancer

Breast Cancer

Endometrial Cancer 

Endometriosis

Uterine Fibroids
Uterine and other reproductive cancers obviously cause significant pain and suffering for those affected by the disease.
Product Liability Lawsuits for Chemical Hair Straighteners
If individuals find that a consumer product causes harm, that manufacturer or parent company can be held liable for their negligence, yielding the opportunity for victims to file a product liability lawsuit. 
Product liability is a doctrine in tort law that allows for plaintiffs to bring action against a negligent third party due to their inaction. 
There are multiple types of product liability suits, but the primary category associated with chemical hair straightener lawsuits is a marketing defect – meaning the users were inadequately warned about the risks associated with product usage. 
Mass Tort Action in Chemical Hair Straightener Cases
Due to the NIH study, there has been a surge of legal activities associated with chemical hair straightening, yielding the opportunity for victims to band together to form a mass tort. In a mass tort, individuals who have experienced adverse effects from using the product can join together to bring a claim against the company that produced the hair straighteners.
Brands Named in Chemical Hair Straightener Lawsuits
Several hair straightener brands have been named in chemical hair straightener class action lawsuits due to the potentially harmful ingredients found in their products. Some of these brands include: 
Dark and Lovely

Just for Me

L'Oreal

Motions

Namaste

Olive Oil Girls

Optimum

Soft & Beautiful

Strength of Nature Global LLC

TCB Naturals
What Can You Do If You Or A Loved One Was Harmed By A Chemical Hair Straightening Product
If you or someone you love experienced any of the aforementioned side effects associated with a chemical hair straightening product, you may be able to take legal action against the companies that produced the product. 
This legal action could involve filing a personal injury case or joining a mass tort lawsuit with other individuals who have also been damaged by the product. Contact the Shapiro Legal Group, PLLC today to discuss the details of your case during your free initial consultation.