The novel coronavirus outbreak has had a significant impact on the health and financial welfare of millions of Americans. Businesses have been forced to close to further prevent the spread of disease, putting an immediate, sudden halt to the finances and income of many across the country.
Some business owners have purchased business interruption insurance in order to cover such unexpected circumstances. However, many are finding these claims rejected or denied for various reasons.
If you or a loved one has been denied for a business interruption claim in New York, please contact the mass tort attorney from Shapiro Legal Group, PLLC today to discuss your case. We can help you secure the compensation you need in these uncertain times. Call us for a free consultation at (888)640-DRUG
What is Business Interruption Insurance?
Business interruption insurance is a supplemental policy option on many business owner's comprehensive property policies. It essentially covers any losses of income and revenue due to an event or circumstances that force the interruption of normal business operations. During such unexpected events, business interruption insurance is intended to cover:
Loss of revenue as a result of the interruption
Any payroll for employees for a designated time period
Any continuing expenses that must be paid despite the interruption, such as rent, mortgage, or utilities
Any repair or remodeling costs as a result of the interruption
Expenses associated with temporary relocation in order to continue business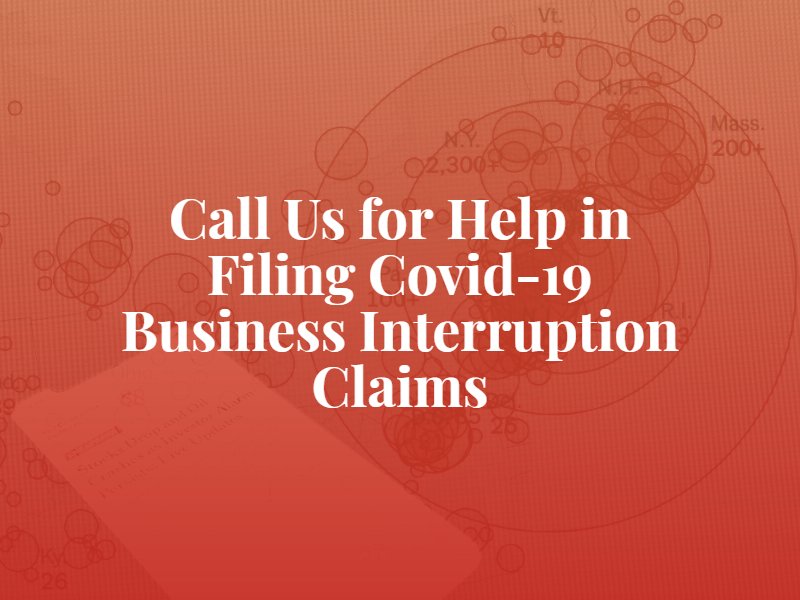 COVID-19 Business Interruption Insurance Claims
Many business owners who have halted operations due to COVID-19 have unfortunately found that their business interruption claims have been summarily denied by their providers. Most business interruption insurance policies typically state that they only cover interruptions based on a "direct physical loss" associated with the business. This is typically interpreted by providers to mean physical damage to property. Additionally, after the SARS epidemic in 2004, many inserted provisions in their policy that excluded any threats associated with a virus or a pandemic.
Fighting Business Interruption Insurance Denials Due to COVID-19
Despite any providers rejecting business interruption insurance claims, it is highly recommended to file a claim anyway. Many states are currently taking action on providing immediate economic support for businesses who are suffering due to these sudden circumstances – including New York. These states are currently introducing legislation that could force insurance providers to retroactively cover business interruption claims due to COVID-19. However, they likely require business owners to file for these claims anyway.
Even if a business interruption claim is rejected, the provider is legally obligated to give you a specific reason why your claim was rejected. Using this information, it may be possible to appeal their decision, especially with pending litigation offering immediate relief.
At Shapiro Legal Group, we can assist you in these needs, answering any questions and fighting for the compensation you rightfully deserve.
Qualifications for Business Interruption Insurance Under COVID-19
If your business has been interruption due to COVID-19, you may qualify for a business interruption claim if:
Your business was forced to shut down without warning due to the coronavirus.
Your business had to immediately reduce hours or completely change their business model in order to adapt to COVID-19-related orders
A government or regional mandate has forced your business to close for an indefinite period of time.
You are unable to pay any of your employees – or you have had to reduce your staff as a result of COVID-19.
Additionally, if your place of business has been exposed to coronavirus, business interruption insurance may cover any costs associated with closing the business for cleaning and disinfection.
Contact Us Today
If you are a business owner who is filing a business interruption claim, please contact us today to discuss your situation. We are here to offer assistance and support during these difficult times, so that you may receive the financial relief necessary. If you have any questions or concerns, do not hesitate to call us at (888)640-DRUG and see how we can help.