Zantac is a popular over-the-counter medication patients use to treat heartburn. Its active ingredient is ranitidine, a histamine-2 blocker that works by reducing the level of acid in the stomach. Several other prescription and over-the-counter heartburn medications also contain ranitidine. Unfortunately, the Food and Drug Administration has linked this ingredient to a probable human carcinogen called N-nitrosodimethylamine (NDMA).
If you or a loved one took Zantac and experienced liver damage, cancer, internal bleeding or other serious health complications, please call Shapiro Legal Group, PLLC at (888) 640-DRUG to discuss your rights. A drug manufacturing company may owe you financial compensation. Our Zantac lawyer also take wrongful death claims.
Why Hire Our Zantac Lawyer?
We get results. Our Zantac lawsuit lawyer can take your case to trial if settlement negotiations fail to provide maximum compensation.
We do not back down. Big Pharmaceutical companies and their aggressive legal teams do not intimidate us. Our mass tort attorney is passionate about protecting the rights of the injured.
We emphasize communication. Our Zantac attorney believes in the importance of one-on-one client communication, responsiveness, and transparency.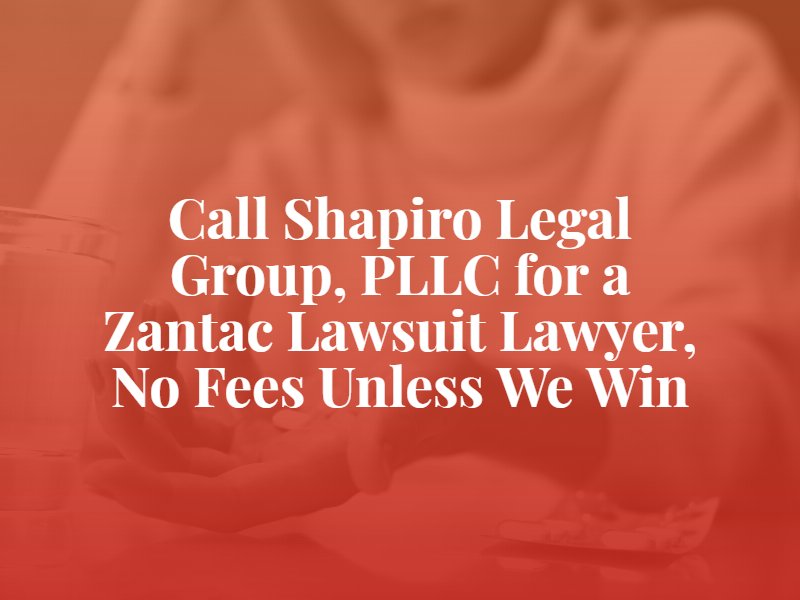 Why Are Patients Filing Zantac Lawsuits?
NDMA is a potentially dangerous chemical classified as a probable human carcinogen (cancer-causing substance) based on lab tests. Zantac contains extremely high levels of NDMA, putting consumers at great potential risk of harm. Laboratory tests have shown Zantac to contain up to 0.36 micrograms of NDMA per tablet, while the acceptable daily intake limit is just 0.096 micrograms. Class actions against Zantac state that the manufacturing company, Sanofi Pharmaceutical, failed to warn consumers of the known risks of its drugs-related to NDMA, despite having scientific evidence of its carcinogenic properties.
Dangerous levels of NDMA in Zantac may expose consumers who take this over-the-counter medication to the risk of developing serious health complications. Ingesting NDMA can increase the risk of developing cancers of the kidney, liver, stomach, esophagus, bladder and uterus. Liver fibrosis, scarring and tumors in the lungs are also potential health risks associated with NDMA. Symptoms of N-nitrosodimethylamine exposure in Zantac users can include stomach pains, nausea, vomiting, dizziness, fever, headaches, jaundice and reduced organ function.
What Is the Burden of Proof During a Zantac Claim?
If you are experiencing health problems commonly associated with NDMA as a Zantac user, you may have grounds for a product liability lawsuit against the manufacturing company. Sanofi may be liable for your illness or a loved one's death due to the failure to warn consumers of a known risk. Holding a large pharmaceutical company liable for damages related to a defective drug takes proving a few key elements.
The medication you took contained a defect. This could be a defect in its design, makeup, manufacture, distribution and/or marketing.
The defective drug caused your injury or illness. Your attorney must establish a causal link between the defective medication and the health complication in question.
You suffered damages as a result. As a plaintiff, you must have proof of compensable damages related to the medication, such as medical bills or wrongful death.
Your Zantac lawyer will not need to prove the manufacturing company's negligence, fault or fraud if you have the elements of a strict product liability lawsuit. Your lawyer may also, however, be able to bring a claim on the basis of negligence or a breach of warranty depending on the circumstances.
Contact a Zantac Lawsuit Attorney Today
A successful mass tort, class action or individual lawsuit against Sanofi for defective heartburn medication could end in financial compensation for you and your family's many related losses. You could recover expenses such as lost wages, legal costs, court fees and health care bills. Discover the value of your product liability claim, as well as if you have grounds to bring a Zantac lawsuit, during a free consultation at Shapiro Legal Group, PLLC today. Speak to our Zantac attorneys at (888) 640-DRUG or schedule a case review online. We accept cases nationwide.