Lawsuits provide an avenue to justice for people who have been harmed by others. There are many courses of legal action available depending on the location of the plaintiff and the circumstances surrounding his or her injury. 
When many people are harmed by the same person or organization, they may pursue a class action lawsuit against the at-fault party. Class actions provide a more streamlined approach to holding a defendant or group of defendants accountable when their actions affect lots of potential plaintiffs.
The Basics of Class Action Claims
A class action lawsuit allows many potential plaintiffs to file a claim against one or more defendants. This type of legal action is preferable when there are too many plaintiffs to practically file individual lawsuits against these entities or individuals. Class actions essentially save time and court resources.
When filing a class action, a plaintiff or a group of plaintiffs act as representatives for the rest of the affected victims and pursue the litigation alongside their attorneys. Other members of the class are then notified of their eligibility and have the option of either opting out of the claim or recovering their share of the settlement. 
If the class action lawsuit is successful, the defendant will need to pay a settlement of a certain amount, which is often determined by the court. This settlement will be divided evenly among all members of the class. The nature of this payout differs from a mass tort, where plaintiffs have the ability to collect compensation for individual damages.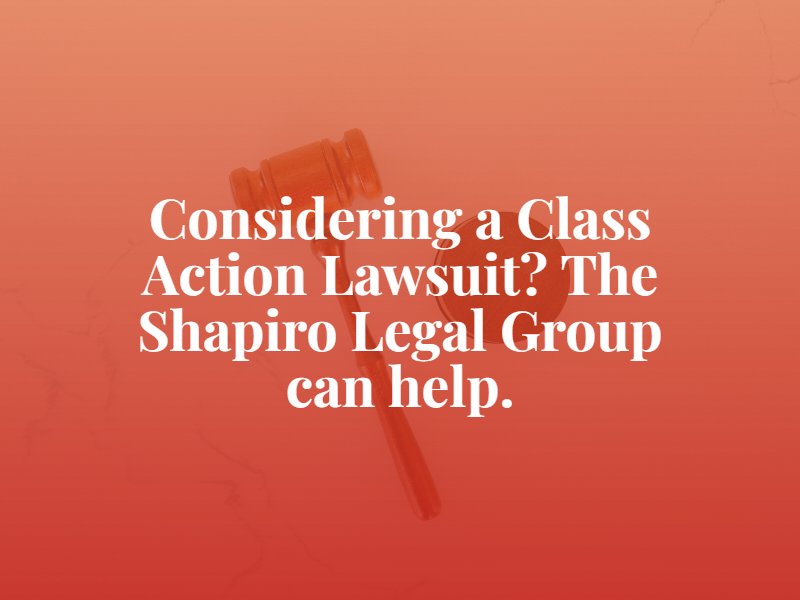 Examples of Class Action Claims
People pursue class action lawsuits for many reasons. In most cases, these claims involve dangerous and defective products and are filed against manufacturers who cause injuries to consumers. However, cases involving unfair business practices and corporate and governmental negligence may also arise.
The following are examples of common class action claims.
Dangerous and defective product claims, such as those involving medications, vehicle parts, defective electronics, and infants' products, like car seats

Toxic torts, or cases involving exposure to dangerous substances such as asbestos, lead, mercury, and toxic waste

Civil rights proceedings, such as claims involving inadequate school funding or sexual harassment

Securities litigation, which involves a wide array of actions that an entity may file or have filed against them
How to File a Class Action Lawsuit
To pursue a class action lawsuit, it is first important to speak with an attorney who is currently representing plaintiffs in a claim against the at-fault party. If no one has initiated a claim yet, consult with a lawyer who has experience representing similar cases. Your lawyer can evaluate your case and identify whether it would be better to pursue a class action or individual lawsuit.
Filing a class action complaint involves a few critical steps. You will need to file the complaint in the appropriate civil court and serve the complaint to the defendant. Once the complaint is filed and served, you will then need to get a court to certify the class. 
The Certification of the Class in a Class Action Claim
The most important step in filing a class action claim is the certification of the class. This step essentially establishes the lawsuit and gives the class, or the plaintiffs injured by the defendant, permission to proceed with litigation. Without this certification, the case would be dismissed.
Different states have different procedures for certifying the class. Generally, you will need to prove the following facts to the judge overseeing your case.
The representative or group of representatives have suffered the same harms or injured as the members of the class.

The class has a clear definition, and it is simple to determine who is and is not a member.

The class has a large number of members that would make it impractical for each plaintiff to pursue an individual claim.

There is a common set of facts that connect all of the injuries that the members of the class have endured.

The representatives' claims are similar to the other class members' claims. As a result, the court can come to an adequate decision for the absent members by litigating the representatives' case.

The class action lawsuit is proven to be the most efficient and optimal method for resolving the claims.
The Benefits of Filing a Class Action Lawsuit
While class action claims may seem intimidating, they are very important. By pursuing a class action lawsuit or joining an existing action, you could hold the defendant accountable and recover compensation to pay for the aftermath of these injuries. 
A class action lawsuit can provide many benefits for plaintiffs. Often, these claims involve minimal effort and participation, unless you are one of the claim representatives. These lawsuits usually settle much faster than an individual claim and promote speed and efficiency in the court system. 
However, a class action lawsuit is not right for everyone. When divided among hundreds of potential class members, a multi-million-dollar settlement can be very small. The court may not certify the class if the harm only affects a handful of plaintiffs. For these reasons, it is important to consult with an attorney to determine your legal options.  
Do You Qualify for a Class Action Lawsuit?
You may qualify for a class action lawsuit if you were harmed by an individual or entity, and if a number of other people have also suffered the same harm. In many cases, courts deny claims that involve 20 or fewer class members but will generally accept claims with 40 or more potential class members. 
It can be difficult to know whether you qualify for a class action lawsuit. In these situations, you need to speak with a lawyer with experience handling class action claims. In addition to helping assess your eligibility, hiring a lawyer can help you navigate the legal process. These lawsuits can take significant time and effort to pursue, and you need the skills, experience, and resources that an attorney can provide.
A class action attorney can help you join an existing class or create a new one if your case qualifies. Your lawyer can also assist in identifying and notifying other members of the class, preparing your case for certification, and advocating for you and your fellow class members during each stage of your case.
As soon as possible, contact a class action attorney near you to discuss your legal options and understand your next steps.