On September 11th, 2001, an unprecedented tragedy shook the United States, leading to significant health and financial repercussions for thousands. To support the affected individuals and families, the September 11th Victim Compensation Fund (VCF) was established.
The VCF's history is layered and has changed significantly over time. If you or someone you know was affected by 9/11, it's important to know where the fund stands today and how it got here.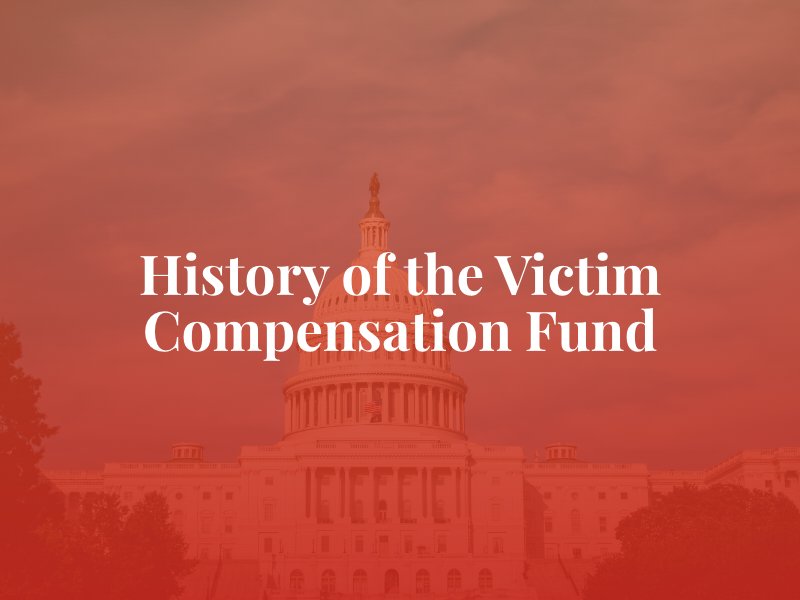 What Is the September 11th Victim Compensation Fund?
The VCF was created as a means to financially assist people who either suffered injuries or lost loved ones due to the 9/11 terrorist attacks or the subsequent cleanup efforts. Individuals and families can recover compensation in three primary categories:
Non-Economic Loss: This category pertains to pain, suffering, or loss of enjoyment of life.
Medical Expenses: These cover treatment costs associated with 9/11-related medical conditions.
Economic loss: This includes compensation for lost wages, benefits, out-of-pocket medical costs related to 9/11 injuries, funeral expenses, and services the victim can no longer perform at home.
In cases involving a fatality, additional awards for wrongful death pain and suffering, as well as dependent awards for surviving family members, are also available through the VCF.
The Origins of the Victim Compensation Fund
Following the 9/11 attacks, Congress swiftly enacted the Air Transportation Safety and System Stabilization Act, which aimed to financially bolster the airline industry. To deter potential litigation against the airlines, this Act also established the VCF for first responders, survivors, and their loved ones.
The original VCF was operational from 2001 to 2004. It provided over $7 billion to more than 5,000 individuals and families. However, not all eligible claimants came forward during the process; some found the application process emotionally challenging, while others, particularly volunteers, were unaware of the fund's existence.
The James Zadroga Health and Compensation Act of 2010
In the years following the terrorist attacks, 9/11 survivors continued to suffer debilitating health problems like cancer, chronic obstructive pulmonary disorder (COPD), and asbestosis. Recognizing this continuing impact, President Obama signed the James Zadroga 9/11 Health and Compensation Act in 2010. The law is named for James Zadroga, a New York City police officer who died of a 9/11-related respiratory illness in 2006.
The Zadroga Act reopened the VCF in 2011 and expanded its scope to cover individuals affected by 9/11-related ailments. This legislation also introduced the World Trade Center Health Program (WTCHP), which offers medical support for eligible individuals. Anyone who lived, worked, or attended school in the area south of Canal Street between September 11, 2001, and May 30, 2002 could file a claim with the VCF.
Initially, the Zadroga Act set the filing deadline for VCF claims as October 3rd, 2016. This deadline was extended by five years in December 2015. However, as claims increased, funding challenges emerged.
In February 2019, the Special Master determined that the VCF no longer had enough funding to pay pending and future claims. This led to modifications in the VCF's policies that reduced some compensation amounts.
The Victim Compensation Fund Permanent Reauthorization Act
President Trump signed the Never Forget the Heroes: James Zadroga, Ray Pfeifer, and Luis Alvarez Permanent Authorization of the September 11th Victim Compensation Fund into law in July 2019. Also known as the VCF Permanent Authorization Act, the goal of this legislation is to provide long-term support for any responder or survivor affected by the 9/11 terrorist attacks.
The VCF Permanent Reauthorization Act extended the deadline for VCF claims to October 1, 2090. It also requires that the VCF receives full funding in the future to aid survivors in the decades to come. Additionally, claimants who were affected by the VCF funding reductions have the right to recover a fair award for their full losses.
How to Apply for Compensation from the VCF
If you or a loved one suffered a health condition related to the 9/11 terrorist attacks, you may be eligible for an award from the VCF. Filing a claim is a three-part process:
Create an Online Account: First, you will need to create an online account and register with the VCF. This process preserves your right to file your claim in the future. When registering, you will need to provide information such as your name, address, contact information, date of birth, and Social Security Number.
Get Certified by the WTCHP: Next, you will need to visit the WTCHP and get your medical condition certified. The program maintains a list of eligible conditions that qualify for treatment and VCF funding. Only after you are certified are you eligible to file a claim.
File Your Claim with the VCF: After you are certified and registered, you can file your claim with the VCF anytime before October 1st, 2090. To file your claim, you will need to fill out an online claim form about your eligibility and the compensation that you want to recover. You will also need to provide supporting documents that prove your medical condition and its connection with 9/11.
Speak to a 9/11 Victim Compensation Fund Attorney Today
Navigating the complexities of the VCF can be daunting. With numerous requirements and evolving regulations, it can be difficult to know what to do next—especially if you are suffering from a debilitating health condition. This is where the expertise of a 9/11 Victim Compensation Fund attorney becomes invaluable.
Hiring an attorney who specializes in VCF claims offers several advantages:
Knowledge of the System: VCF attorneys are well-versed in the intricacies of the fund. They can provide clarity on eligibility criteria, required documentation, and the claim process.
Maximizing Compensation: An experienced attorney knows how to present your case effectively to recover the maximum compensation possible for your circumstances.
Stress Reduction: With a professional handling your claim, you can focus on recovery and personal well-being without the added stress of navigating bureaucratic processes.
Efficiency: Attorneys are adept at streamlining the process, helping make sure all paperwork is correct and submitted promptly.
Advocacy: Should any issues arise with your claim, an attorney will advocate on your behalf, ensuring that your voice is heard and your rights are protected.
If you or a loved one has suffered due to the tragic events of 9/11, you deserve every ounce of support available. Schedule a consultation with a 9/11 Victim Compensation Fund attorney today to discuss your options and plan your next steps.