Gallbladder cancer affects thousands of people each year. Many factors can contribute to this condition, including genetics, age, and previous medical conditions. In some cases, defective drugs like Zantac may cause gallbladder cancer.
If you developed gallbladder cancer after taking Zantac, you may have grounds for legal action. A qualified Zantac gallbladder cancer attorney at Shapiro Legal Group, PLLC can represent you in your claim against the drug's manufacturers, securing the compensation you need to recover.
Why Hire Shapiro Legal Group, PLLC for Your Zantac Gallbladder Cancer Claim?
Our attorneys have over 20 years of litigation experience, specializing in mass tort claims. We can provide specialized insights and knowledge that only a few firms possess.
Gallbladder cancer is a painful, debilitating condition. The attorneys at Shapiro Legal Group, PLLC will handle each aspect of your claim so you can focus on your recovery.
We have helped thousands of clients recover millions of dollars in compensation. Our Zantac gallbladder cancer lawyers will advocate aggressively for your maximum recovery during each stage of your case.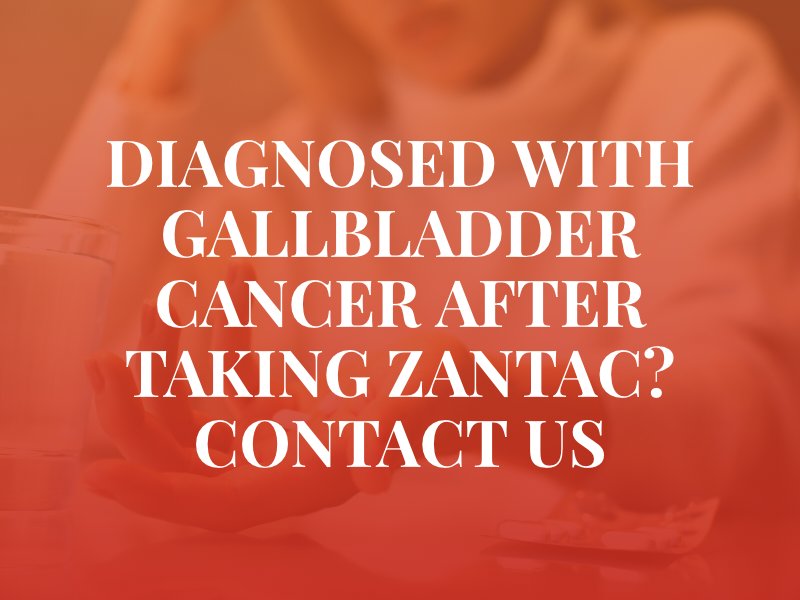 Can Zantac Cause Gallbladder Cancer?
Researchers have linked long-term Zantac use to many forms of cancer, including gallbladder cancer. This heightened cancer risk may be due to the presence of N-Nitrosodimethylamine (NDMA) impurities in Zantac. NDMA may cause cancer in humans.
In September 2019, online pharmaceutical company Valisure alerted the U.S. Food and Drug Administration (FDA) to unsafe levels of NDMA in certain batches of Zantac, triggering an investigation. The FDA issued its recall of prescription and over-the-counter Zantac in April 2020.
Symptoms of Gallbladder Cancer
Like most cancers, gallbladder cancer does not always show symptoms in its early stages. When symptoms do occur, they may include the following.
Unexpected weight loss
Abdominal bloating
Abdominal pain, especially in the upper right abdomen
Jaundice, or yellowing of the skin and eyes
If you or a loved one was recently diagnosed with gallbladder cancer after experiencing any of the above symptoms and you took Zantac, speak with a Zantac attorney as soon as possible to learn your available legal options.
Statute of Limitations for Zantac Gallbladder Cancer Lawsuits
If you plan to file a Zantac lawsuit, you will need to adhere to your state's statute of limitations. This law sets a time limit for filing a civil claim; if you do not file within the stated time frame, the court will dismiss your case.
Most states follow the discovery rule when it comes to Zantac stomach cancer claims, meaning that the statute of limitations clock starts running on the day you discovered or should have reasonably discovered the cancer. Speak to a Zantac gallbladder cancer attorney at Shapiro Legal Group, PLLC to identify your filing deadline.
How Much Is a Zantac Gallbladder Cancer Case Worth?
Gallbladder cancer requires painful treatment that can keep you away from work and lead to thousands of dollars in medical bills. The physical and emotional toll of the condition can be difficult to bear. Through a Zantac gallbladder cancer lawsuit, however, you can recover compensation for the losses you sustained due to the disease.
Common types of damages our Zantac gallbladder cancer attorneys have recovered include the following.
All medical expenses related to the cancer, including future treatment
Lost wages and loss of future earnings and benefits, if you cannot return to work
Disability accommodations to your home and vehicle
Transportation to and from necessary medical appointments
Pain and suffering, such as emotional distress, chronic pain, and mental anguish
Schedule a Free Consultation With a Zantac Gallbladder Cancer Lawyer
If you developed gallbladder cancer after taking Zantac, you may have grounds for a lawsuit against the drug's manufacturers. The attorneys at Shapiro Legal Group, PLLC, specialize in defective drug litigation and will work tirelessly to secure the compensation you deserve.
Contact us today to schedule a free consultation with a Zantac gallbladder cancer attorney.