In April 2020, the U.S. Food and Drug Administration (FDA) issued a recall for prescription and over-the-counter Zantac. Recent studies show that this popular heartburn medication, also known under the generic name ranitidine, may raise patients' risk of certain types of cancer – including breast cancer.
 If you developed breast cancer after taking Zantac, you deserve financial compensation. In these situations, a qualified Zantac breast cancer attorney at Shapiro Legal Group, PLLC can help.
Why Hire Shapiro Legal Group, PLLC for Your Zantac Breast Cancer Claim?
Our firm has helped thousands of people secure millions of dollars in damages. We will pursue every possible pathway of compensation to maximize your recovery.
Breast cancer requires specialized medical care and lengthy recovery times. Our Zantac breast cancer lawyers will handle every aspect of your claim so you can focus on healing, not paperwork.
Our attorneys represent people in every state. We will co-counsel with leading personal injury and mass tort firms to provide you with the most comprehensive legal representation possible.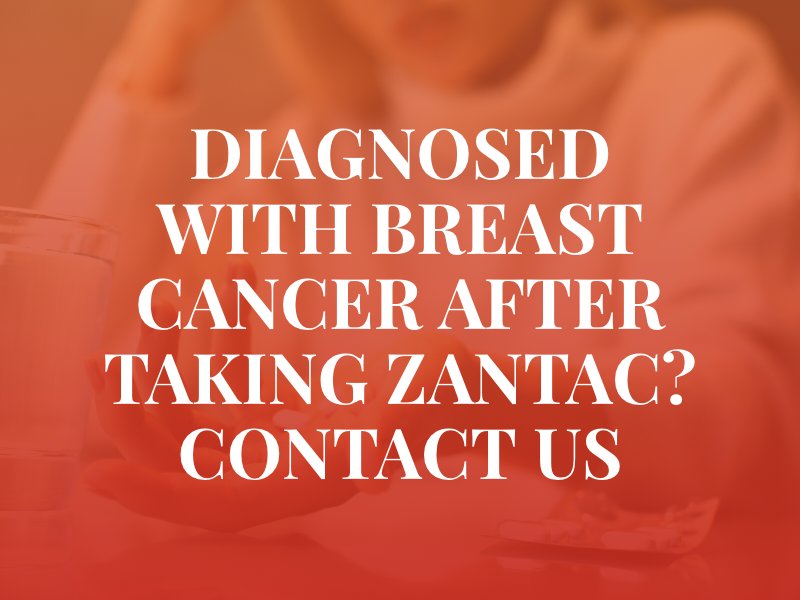 Can Zantac Cause Breast Cancer?
The FDA recalled Zantac in April 2020 after an online pharmacy found unsafe levels of N-Nitrosodimethylamine (NDMA) in certain batches. NDMA is a probable human carcinogen that scientists use to induce tumors in laboratory animals. The FDA determined that NDMA impurities increase in Zantac over time and with improper storage.
Zantac may lead to several types of cancer, including breast cancer. One study from the Fred Hutchinson Cancer Research Center found that patients who regularly used ranitidine had as much as a 240% higher risk of developing certain types of breast cancer than patients who did not take the medication.
Symptoms of Breast Cancer
Breast cancer forms in the cells of the breast and can develop in both men and women. Common symptoms of breast cancer may include the following.
Changes to the skin over the breast
Changes in the size, appearance, or shape of the breast
An unusual lump or thickening in the breast
Orange-like skin texture over the breast
A suddenly inverted nipple
Peeling, scaling, or flaking of the areola or breast skin
If you were recently diagnosed with breast cancer after experiencing any of the above symptoms and you took Zantac, consult with a Zantac lawyer as soon as possible to learn your available legal options.
Statute of Limitations for Zantac Breast Cancer Lawsuits
If you recently received a breast cancer diagnosis after taking Zantac, it is important to speak to a Zantac breast cancer attorney as soon as possible. Most Zantac lawsuits are subject to a statute of limitations, or a filing deadline. If you do not file by the applicable statute of limitations, the court will dismiss your case.
Statutes of limitations vary based on where you live. For example, Nevada residents have four years from the date the harm occurred to file their claims. Pennsylvania residents have two years, while Vermont residents have three years. To identify your filing deadline, contact Shapiro Legal Group, PLLC.
How Much Is a Zantac Breast Cancer Case Worth?
Zantac lawsuits allow you to recover compensation for the economic and non-economic losses you suffered due to your breast cancer. Common damages in Zantac breast cancer claims include the following.
Lost wages
Loss of future earnings
Past and future medical expenses
Disability accommodations, if necessary
Pain and suffering, such as chronic pain and emotional distress
If you lost a loved one due to Zantac-related breast cancer, you may also recover compensation for funeral and burial expenses, final medical costs, and pain and suffering on behalf of the family. Speak to a knowledgeable Zantac breast cancer attorney to determine which damages you and your family may qualify for.
Schedule a Free Consultation With a Zantac Breast Cancer Lawyer
A breast cancer diagnosis can be devastating. If you believe you developed breast cancer due to your Zantac use, you deserve financial compensation – and the attorneys at Shapiro Legal Group, PLLC can help. Contact us today to schedule a free consultation with a Zantac breast cancer attorney.